It's no surprise to me that I've only played a few open mics and coffee houses.  First of all, most places book acts for the weekend so at best we're talking about 57% of the week available for potential gigs.  Furthermore, although some open mics are weekly, many, if not most, are monthly and the odds of my being in town on that particular day are pretty small.  I've missed by a day or two several times.  Finally, many "coffee houses" these days just offer coffee, not music.  You may have noticed that it's not the 60's any more.  Restaurants are usually a no-go and bars are uncertain at best – noisy, often best suited to a band.  
I've played for the wildlife (and because I need the practice) when I've camped, but the prolonged run of heavy rain and thunderstorms we've encountered has changed this trip from an open mic tour to an Airbnb tour.  C'est la vie, or, to quote the Goldsmith family motto, Est Quod Est (It Is What It Is.) 
We left Missoula and headed up to the northwest corner of Montana, where we camped at Bad Medicine Campground.  I had chosen it both for the drive and the name.  The Airbnbs have been fine, but it was nice to finally get outdoors.  It wasn't crowded and we settled in comfortably.  If I were a fisherman, I would have been in heaven.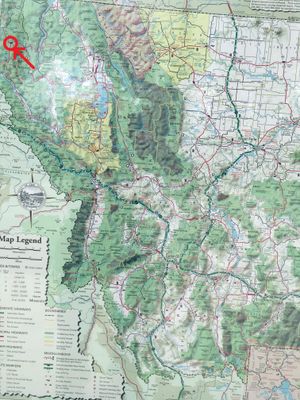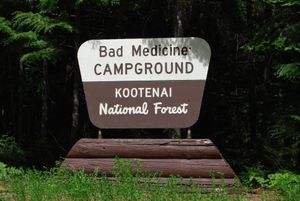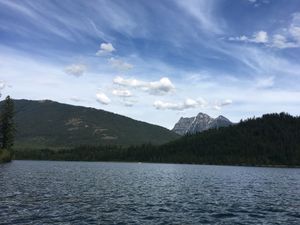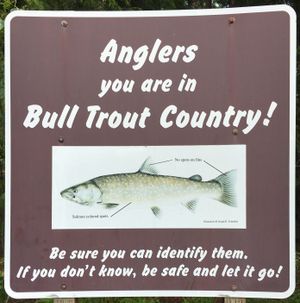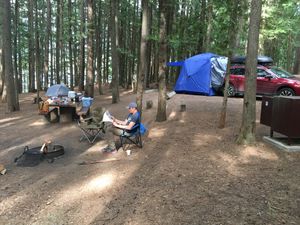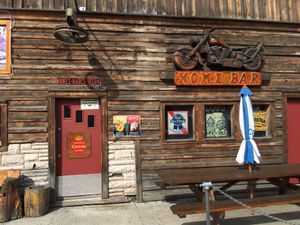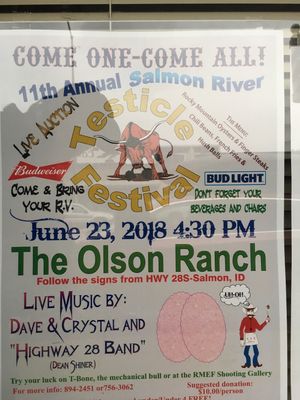 The next morning we broke camp and stopped in Troy – "Where Montana Begins" – for coffee and breakfast before heading for Glacier.  Andrew had gone off for a run and I was drawn to the Home Bar, which specializes in bikes, babes and beer.  Too early in the day – they weren't open yet.  Regrettably, we were also a few weeks too early for the 11th Annual Salmon River Testicle Festival. 
When I travelled around the country with Susan, whom Trish referred to as my "practice wife," we were on the road for six or seven weeks. By the end, having seen no end of amazing places, we would say, only half jokingly, "Ho hum, another magnificent vista, another spectacular mountain …."  Scenery overload.  
Nonetheless, some of the best experiences of travel are unplanned and unexpected.  We headed east on Route 2, which I suppose I could just follow until I got to Arlington, if I were so inclined.  We were winding our way through a deep gorge when we spotted our first "Historical Marker Ahead" sign.  These and "Scenic View" indicators are the reason any two-hour trip takes three or four, so we tried to resist.  That lasted until we saw the "Kootenai Falls and Swinging Bridge" sign.  We had to investigate.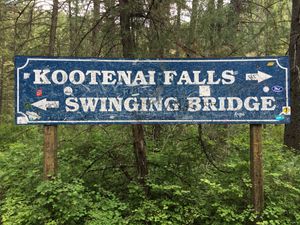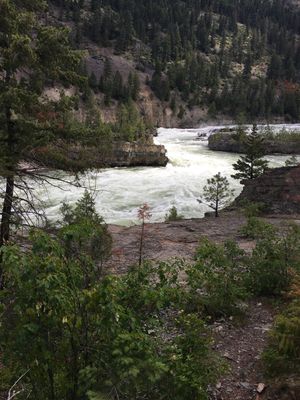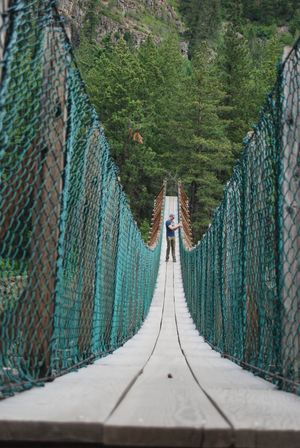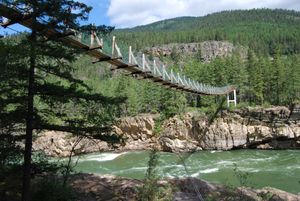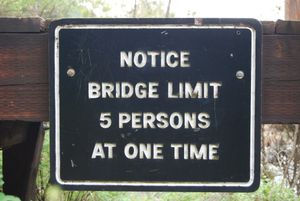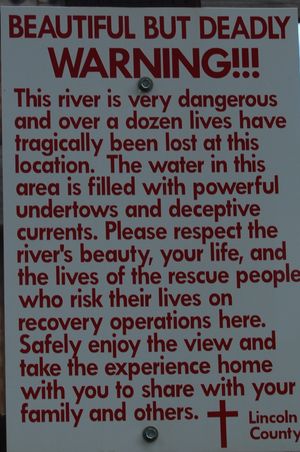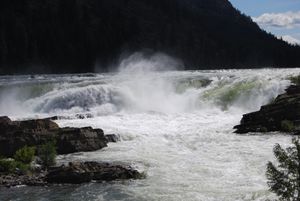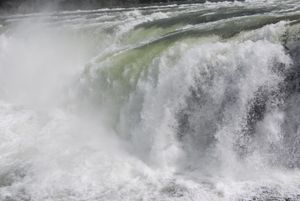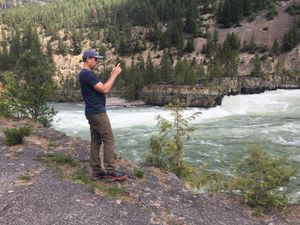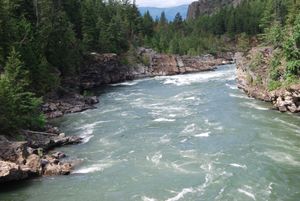 The bridge turned out to be uneasily mobile, if not swinging, though I suppose you could get it to swing with some effort and a serious death wish.  The Kootenai River (named after a local Indian tribe) was wild and wonderful and the falls even more so.  I came upon lots of flowers during a walk in the woods.  It reminded me of Glen Helen, a thousand-acre forest adjacent to Antioch College – a place in which I probably spent more time than in class.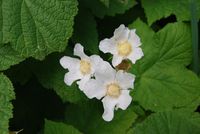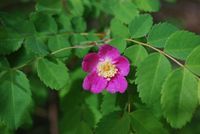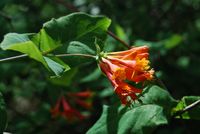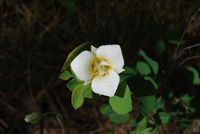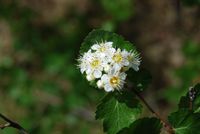 You get to the water by crossing the railroad tracks – no trains, unfortunately – and descending a couple of flights of stairs.  Andrew was ahead of me on the way back and felt the need to run up and down them a few times.  I suppose that's not entirely mad since he's doing a triathlon shortly after returning, but really … was it necessary to carry a boulder as part of the walk?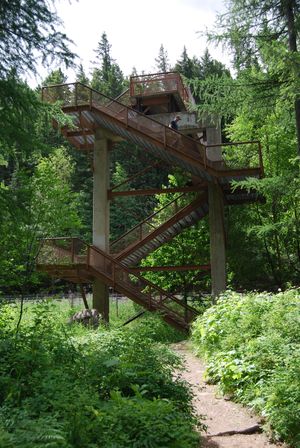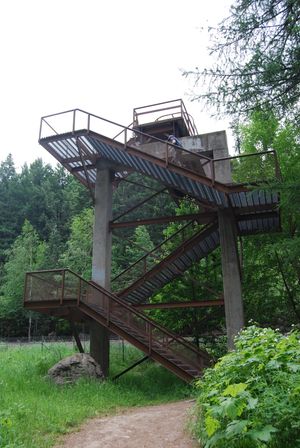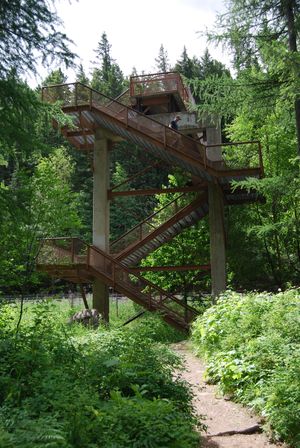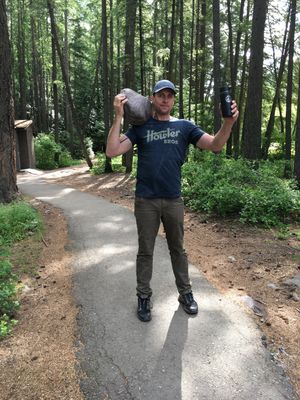 On the way I had to pull over to document the 5,000 mile mark, as well as some neat streams, rocky outcroppings, overhanging crags.  Needless to say, it was a longer trip than one might reasonably expect.