2018-4-28 -- I'm sitting at Pearly's Farmhouse Café in West Cornwall, Connecticut, waiting for my pulled chicken BBQ pizza with carmelized onions and roasted corn, drinking a blessed cup of coffee after my drive down from Boston.  The trip wasn't bad, though it was a little slow on Route 44 through Hartford.   
Lots of tall buildings downtown – Hartford is home to many insurance companies.  There was a disagreement between my GPS's on the best route.  I'm running two or them - my phone and the car –for just this reason.  Also, I'm an old school kind of guy so I had previously consulted my trusty AAA maps and knew that Route 44 was what I wanted.  The car won this time. 
Pretty rapidly I was passing through a shopworn, predominantly black area with a smattering of taquerias, which gave way to a series of suburban mini-malls.  As soon as I entered West Hartford things changed – attractive houses on wooded, nicely landscape yards.  Clearly this was the high-end place to live near Hartford. 
After a while I turned onto Route 202 and I was immediately in scenic western Connecticut.  Winding roads swept up and down between sharp hills.  Rocky streams beside them began as little rills, grew to active brooks part way down and finally became substantial creeks.  Eventually they all flow into the Housatonic River which was in full flood after a series of heavy rains.  To get to Pearly's I crossed the river on a sturdy 1 one-lane bridge.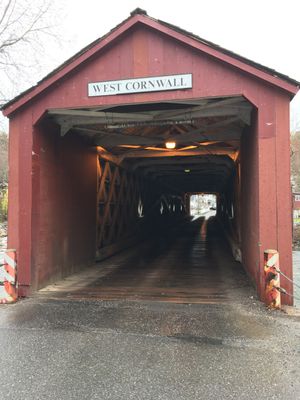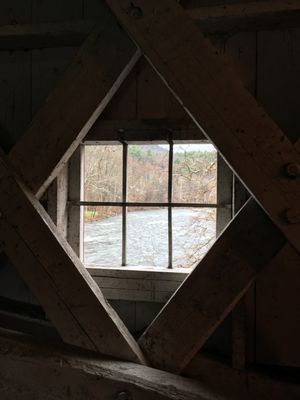 My Airbnb is cozy and comfortable and when I return after dinner I'm planning to go through the containers and boxes I tossed into the car in my last–minute effort to actually get on the road.  I had told Chris I was aiming for 9 which I knew was probably at least 10.  Eventually it turned out to be closer to 2:00, but that didn't surprise me.  It was one reason I had planned a shorter first day's drive, ending with a bed and a shower rather than a tent and a campfire.  Time enough later for that. 
Ah – here's my pizza – it looks yummy.