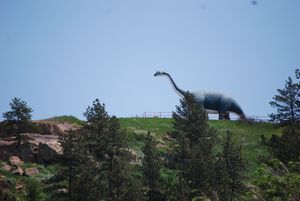 I was anxious as I drove eastward towards The Badlands.  I had dutifully noted the address of my next destination, 20055 Hwy 44, Scenic, SD 57780, but as I proceeded down Route 44 I realized that (1) no place had a "house number"; (2) in fact, there no houses; (3) I had no actual name or phone number for the place; (4) I had no phone service at all; and (5) I was in the middle of nowhere in a freaking desert.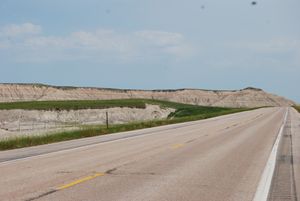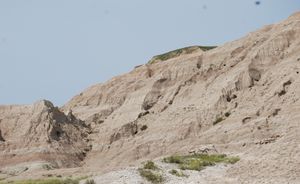 No matter, I'd find a place to clarify this all in Scenic.  Well, no; these pictures show all of Scenic: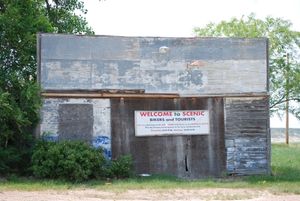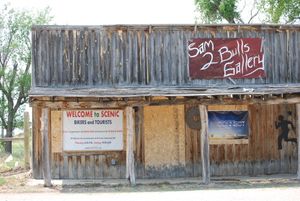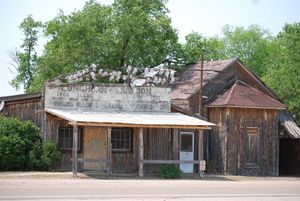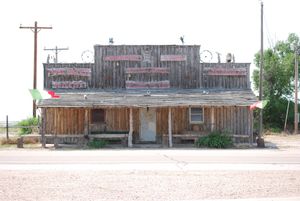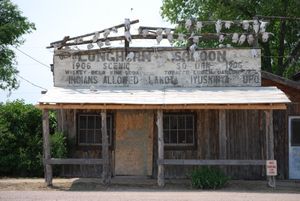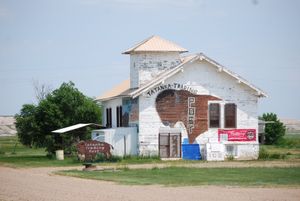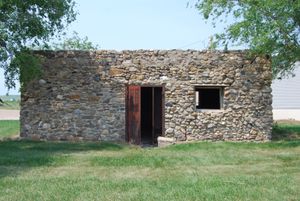 Okie dokie, I'll just have to drive on to the park itself and then backtrack.  Suddenly, my phone was ressurected from the dead – I had service and skidded to a stop in that tiny plot of electronic access.  I was able to check my old mail and find where I was going: the Circle View Guest Ranch.  I was staying in a homestead cabin from 1880 not far from the park.  Although it had no heat, water or electricity, it was an upgrade from the park campground and was not going to be that different from a tent and it seemed like a good exclamation point to my long and varied trip.  That's it down by the river and here's a picture of the campground at the park; what do you think?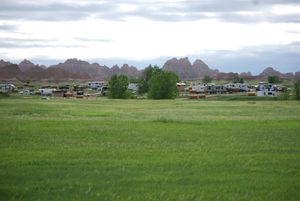 It's a working ranch – 150 head of Angus cattle – plus they added a separate solo house and a nice multiunit guest house 19 years ago.  It was occupied the night I was there by a group doing a biking vacation trip.  Was that giking (like glamping), I wondered.  Hmmm.  
It worked out fine, although the night was incredibly windy – the owners commented on how unusually blowy it had been – so it was noisy, but exciting in its own way and kind of cool.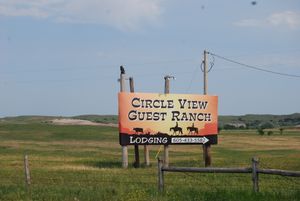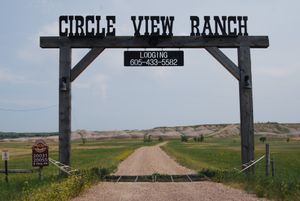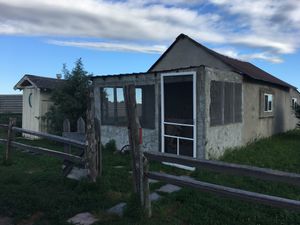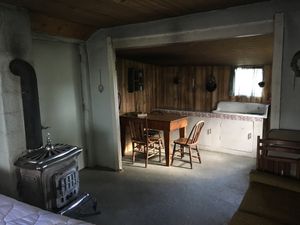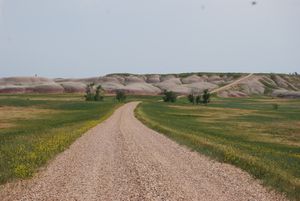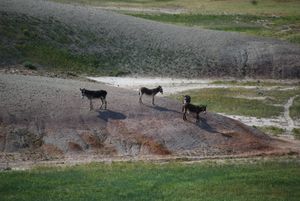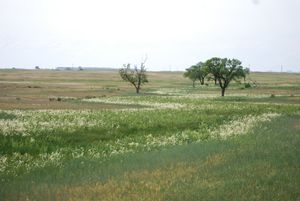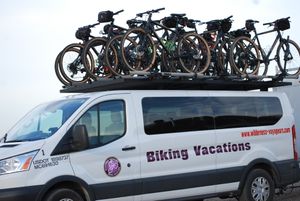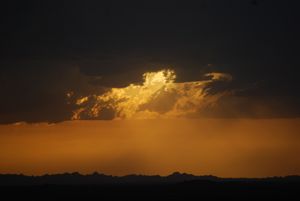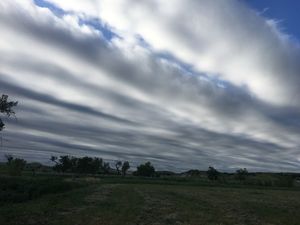 After a delicious and filling breakfast at the ranch and headed back to the park.  I had spent some time there the afternoon before once I had gotten organized at the cabin.  It's a remarkable and fantastic place, otherworldly and stark.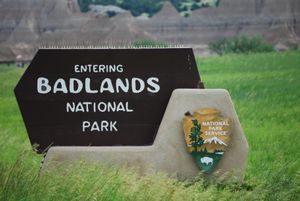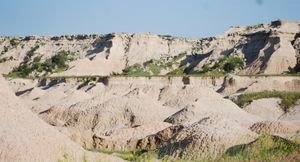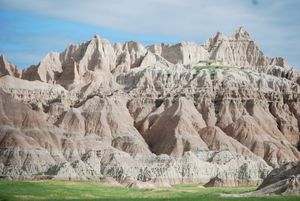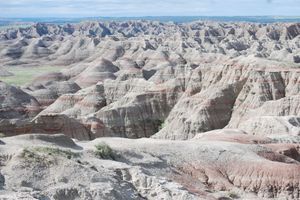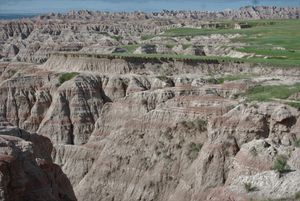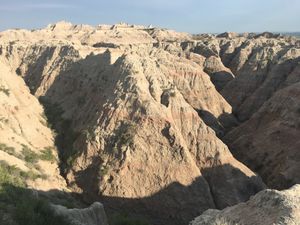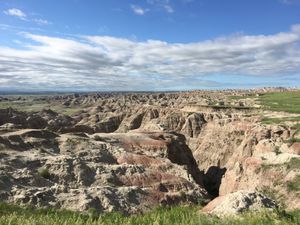 Undeterred by the fact that it was 100 degrees and that the trail was labelled "strenuous," I headed up the Saddle Pass Trail for an amazing view of the prairie beyond the cliffs.  In fact, the Badlands itself is an interface between two different levels of prairie that has been eroding and moving backwards over the past half million years.  Apparently in another half million years it will be gone altogether.  I won't be around to see it.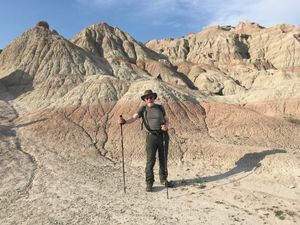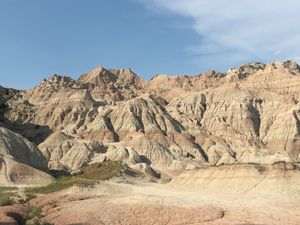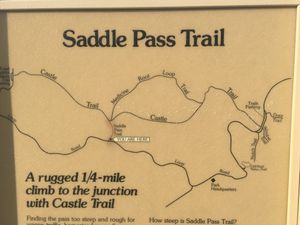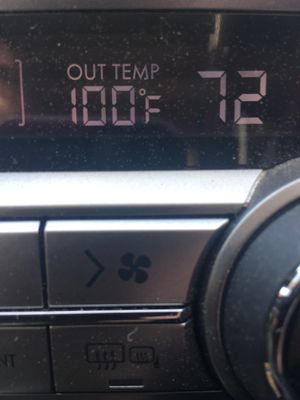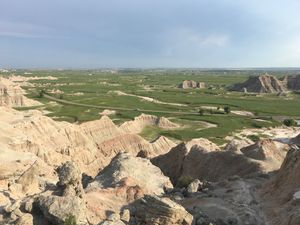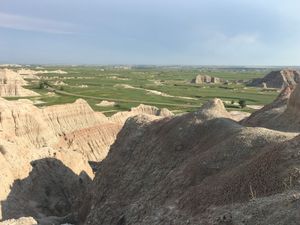 I had been in contact with Ron and he again invited me to his cabin on Lake Okoboji.  Actually, it's on Spirit Lake, which is part of the larger Okoboji Lake, connected by a narrow isthmus.  I definitely took him up on it and was looking forward to some low-key R&R.  
I was chatting with Amy, the Circle View proprietor and happened to mention that when I got back to Boston I was planning to focus on doing voiceover.  "Oh," she said.  "You should go over to the other house and knock on the door.  There's a crew there from the BBC filming at the park."  The lead photographer, she told me, was Martyn Colbeck.  "I'll do that," I said nonchalantly, and headed off to my car to consult Google and confirm what I thought I knew.  
Yes, indeed, that Martyn Colbeck, the award-winning filmmaker for the BBC's Planet Earth series.  You betcha I'm going over there, and I did.  He and the people with him were charming and unpretentious and we had a nice chat.  I explained that I did voiceover and though they had that Richard Attenborough guy working for them, I would be happy to offer my services as well.  After all, he's 92 and I'm only 75.  
Funny how things sometimes come up randomly.  So now I'm waiting for the BBC to call, as well as Stephen Spielberg, who, as I think I've mentioned, will need a whale some day and I can be a whale.