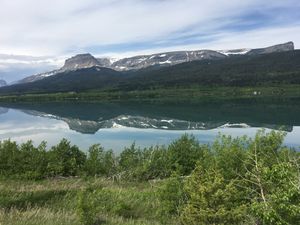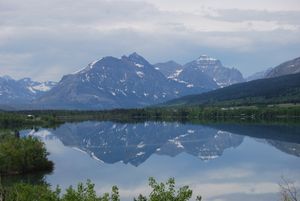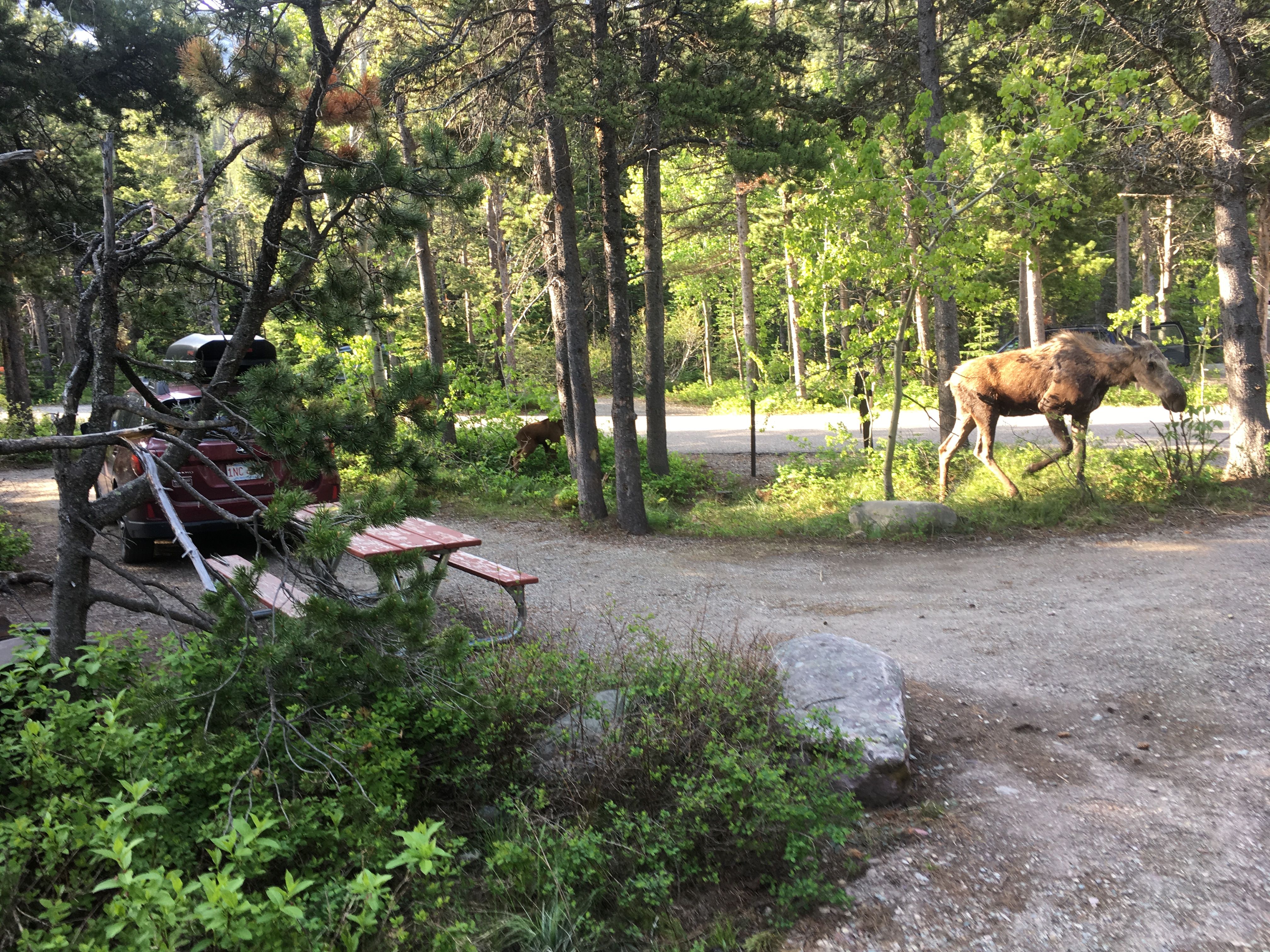 Morning comes early when you're camping and though I dozed on and off till 7:00, I was ready for the new day.  I popped out of bed, dressed and unzipped my tent flap only to find a woman on the path nearby shushing me and pointing to the other side of my car.  Sure enough, there was a big momma moose with a calf grazing on a small patch of greenery.  Cool way to start the day.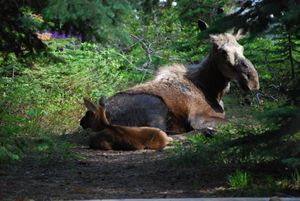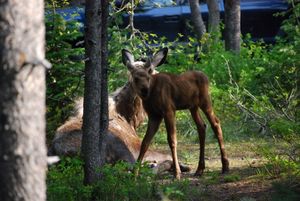 A little later they returned and settled down not far away.  A group of campers had gathered on the adjacent dirt road and we all were taking photos of the endearing maternal scene when a ranger came by.  She was experienced and pleasant with us, but basically asked that we all disperse – now if possible.  A crowd, she explained, just drew more people and although it was a special moment of communion with nature, there was a problem.  
The rangers knew this moose, who had figured out, she explained, that bears tended to avoid crowds and campgrounds, which therefore were a somewhat safer place for her calf.  Yes, that meant that she was more comfortable with people, but she was still a wild and somewhat unpredictable animal and a risk to injudicious campers and their children.  They had previously moved her out of a similar situation and would be returning to "haze" her and encourage her to move elsewhere.  It was an interesting insight into the challenges of negotiating the interface between civilization and nature. 
Neither Andrew nor I had seen a bear in our travels, but this was definitely bear country and there were grizzlies in the area, in addition to black bears.  One of the campers was pretty sure a bear had shuffled through his campsite the night before, huffing and snuffling; he had peeked out of the tent, spied a snout and closed things up again.  There were lots of warnings about food and any items with an odor – toothpaste, suntan lotion, scented lip balm – and admonitions not to keep these kinds of things in your tent.  Seemed like good advice to me.  I like my bears to be elsewhere. 
I was on my own here, but still a little embarrassed by Andrew's prior commitment to exercise vs. my sloth, so I went on a hike to Grinnell Lake and Glacier.  It was still pretty early, so I was alone, which was pleasant, but made me especially alert to the possibility of running into wildlife.  It was a great walk amidst awesome scenery and I was relieved not to find myself face to face with a grizzly.  Then I rounded a curve in the trail and realized that the brown mass on the trail 20 feet in front of me was the rear end of an enormous bull moose.  Good thing I was looking up!  
I recalled the ranger's description of a moose: an 1100 pound creature with a brain the size of a walnut.  I quietly backed up to a safe distance and waited for him to graze elsewhere.  How far away does he need to be for me to resume walking down the trail, I wondered.  I gave him the benefit of the doubt before proceeding.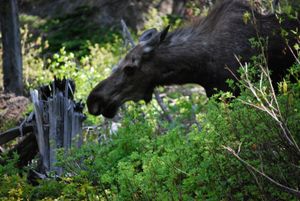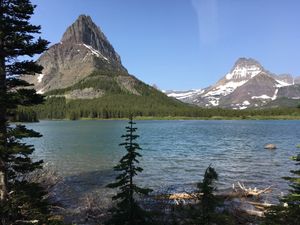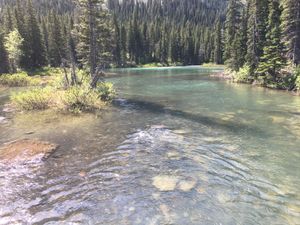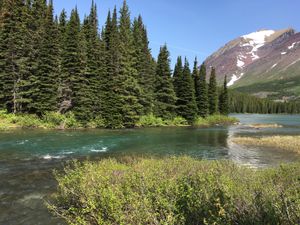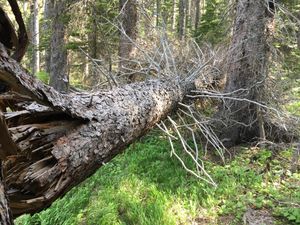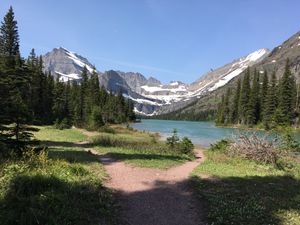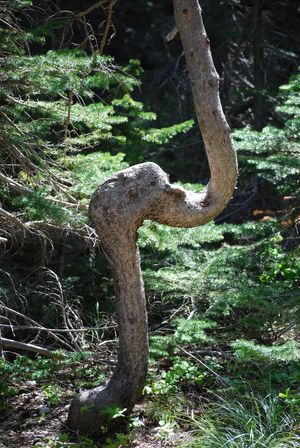 When I returned from my walk I noticed several of the park's iconic Red Buses in the parking lot.  These date back to the 1930's – the oldest fleet of touring buses in the world – and have roll-back canvas tops for unobstructed views.  Chatting with one of the drivers, I learned that for now they were only running tours from the west side of the park.  Since we were on the east side, I pointed out that they were apparently lost and offered to guide them back.  He thanked me politely, but explained that this was only a training run for new employees. 
The buses were built by the White Motor Company, but I noticed that there was also a Ford decal on the hoods.  He told me that when a major overhaul was needed in 1938, Ford offered to forgo the $10 million charge in exchange for getting their name on the vehicles.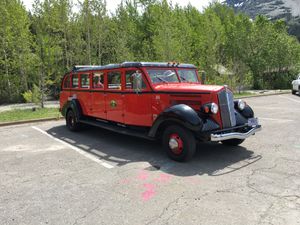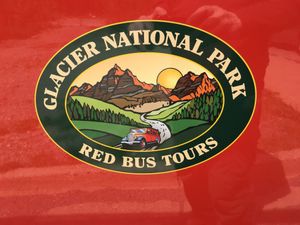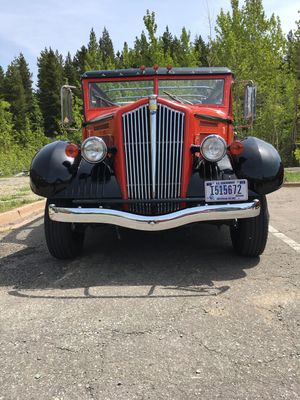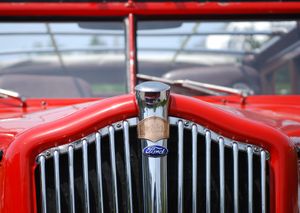 Later in the day I drove down to the visitor center at St. Mary.  The campground there was also full, I was informed, but I drove around it just to look.  It was not in a pine forest like Many Glacier and was more open to the sky, but there were dense bushes between campsites – chokecherry, serviceberry and others – so they actually were more private.  Still, I thought I had made a better choice.  I asked the young ranger why the aspen in the campground were so low – all only five or six feet tall – was this the result of fire?  She was pleasant, but confounded by my question.  "Well, we have a lot of wind here," she replied.  Okay.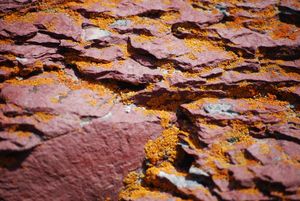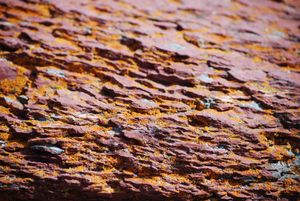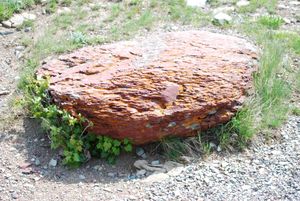 The visitor center was interesting and quite well done.  I had a long chat with ranger David Bensen, who has been studying the white-tailed ptarmigan in the park for 24 years.  Over this time period they have decreased from 35 to about 10 breeding pairs.  You may not care, but we biologists get off on this stuff.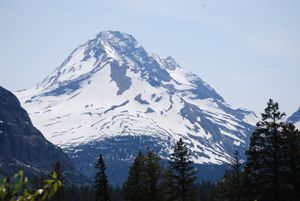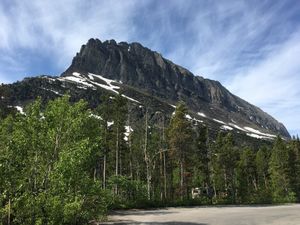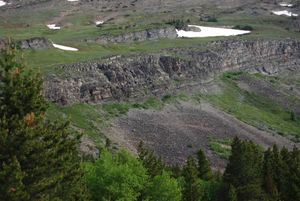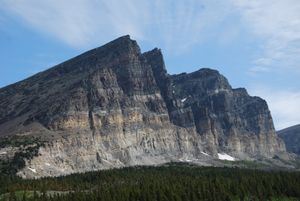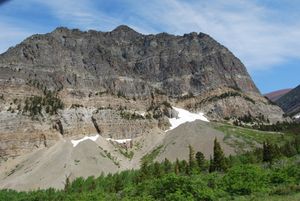 The park was created in part because of its commercial potential as a destination for wealthy easterners. The Great Northern Railway provided transportation and owned concessions within the park.  Since Glacier's mountains resembled the Swiss Alps, a number of Swiss-style chalets were built in and around the park. 
Here, as at Yellowstone and Grand Teton, there was ready acknowledgement that the land had been taken from local Indians, tribes lied to, treaties broken, people massacred and Native Americans generally poorly treated.  It was a degree of realism rarely seen in government these days.  
Evidence of human use of the area dates back more than 10,000 years.  The vast prairies to the east of the mountains were controlled by the Blackfoot Indians, while the western valleys were the home and hunting grounds of the Salish and Kootenai.  Trappers began exploring the area in the 1700's and rumors about the possibility of gold in the 1800s dictated that Native Americans be expelled from the area.  
It was clearly described that when Glacier National Park was created in 1920, half of the new park was formed by the "mineral strip" which the Blackfoot had been pressured to sell to the US in 1895.  However, the enabling legislation for the park contained no reference to them, nor did it "… acknowledge their hunting, fishing, and timber rights to the area, rights which they had reserved in their treaty with the government."  The tribe was not invited to the congressional hearing about the park.  
Non-Indians were allowed to hunt in the park and government hunters sought to exterminate coyotes, wolves and mountain lions.  The Blackfoot felt that the 1895 treaty had reserved their right to hunt in the park, but the government simply ignored this.  Until recently, Indians were charged admission fees to visit the park and conduct religious ceremonies.  A large section of the displays at the visitor center is devoted to the Indian view of things and their concerns and exasperation are clearly presented.  
Not only that, but there were photos and explanations about the retreat of the glaciers in the park and explicit recognition that they would all be gone before 2030.  In fact, there were a number of displays which used the term "climate change," which we know from our fearless national leader is actually a Chinese hoax.  Apparently the mountains are the last refuge of sanity; let's hear it for the National Park Service! 
I spent two pleasant nights at Many Glacier, but it was time to move on.  I bade farewell to my campsite neighbor, Mike, who – as far as I could tell – took hold of decades of unused vacation time and headed off from San Antonio, Texas, in his Ford truck.  He was an interesting and generous dude and gave me a beer bottle cozy, some Texas hardwood oak for my fire and a sticker commemorating Ray Wylie Hubbard's iconic song, "Screw You, We're From Texas."  Yee-haw.