Wow!  That was awesome.  
I had been driving along the Interstate, eating Meltaways, a unique Nebraska confection.  Kevin reminded me that he brought Trish a giant bag of them one time when he visited.  The next morning he spied her shuffling oddly to the trash can, her bathrobe held up before her, filled with Meltaway wrappers and an empty cellophane bag. 
The huge, endless, irrigated fields faded off to the horizon of the flat-as-a-pancake Nebraska plains.  Kevin had told me that I should turn north rather than continuing due west on I-80.  "It will take you into the Sandhills, which are more about ranching than farming.  And they're really pretty."  It sounded like good advice. 
I exited onto US 34 and cruised into Grand Island.  I was flanked on both sides by a mile or two of shopping mall.  All the familiar brands were there – it was like being in New Jersey or exit 3 in Paducah.  Nothing struck my fancy until I passed a Dick's Sporting Goods.  I left the main road and drove back to the entrance of that little mall because there's been something I've wanted on this trip since the beginning, but didn't find it before I left and haven't been somewhere I could purchase it since then.  But Dick's Sporting Goods would be ideal! 
So what was I looking for?  A portable marine klaxon, of course, one of those devices that attach to a can of air and are designed for safety on the water.  You may have seen one at a sporting event and, if you were unfortunate enough to be sitting close, heard it, too, at least until your eardrums exploded like a kernel of popcorn.  And why would I want one, since I'm not planning on boating anywhere?  
Well,  they say that if you come into close contact with a bear or if one decides he wants to share your tent with you, you should yell as loud as you can, wave your arms, clap your hands, make noise, bang on pots.  While all that sounded like good advice, it seemed to me that the ideal thing to have resting next to my head in my tent would be a marine air horn.  Lots of noise close at hand, should the need arise.  I might even want to call it a bear horn instead of an air horn (sorry.) 
So I pulled up to Dick's Sporting Goods, all self-satisfied at having dealt with an unresolved problem, but it turned out that Dick had gone elsewhere.  There was just an empty shell of a store with a For Lease sign in the window.  The huge, highly visible Dick's Sporting Goods marquee remained above.  Only kidding – we're not here, but we got your attention anyway! 
Undeterred, I saw a Harbor Freight store just a little further down the row.  Although this didn't seem the kind of thing they would carry, I figured since I was already in the vicinity, it was worth a shot.  For the uninitiated, I have to point out that there is a significant risk in entering Harbor Freight.  They sell a vast array of hardware, tools, shop equipment and related paraphernalia.  Guys – and some gals – have been known to be lost for hours, roaming the aisles, staring longingly at things they have always desired. 
Now, it is a wise axiom that thou should not covet thy neighbor's table saw or air compressor or his heavy-duty rolling tool cart with multiple drawers and neatly labelled parts containers.  Nor should thou envy his complete set of socket wrenches, including all sizes, both English and metric, arranged in ranked order, none missing.  
Harbor Freight sells that kind of stuff and for some of us, it causes our hearts to beat faster, our adrenaline to surge, dopamine to ooze out of every vesicle in our body.  "Ooh … that's so cool."  It's a rush to the head … and to the heart.  It's like mechanical mescaline.  It is generally considered good advice to lock your wallet in your car before entering so you're not overcome with irrational workshop lust.  But I digress. 
As I anticipated, they did not have what I needed, but all was not lost for on the other side of the highway I spied a Walmart.  It required about a quarter mile of side roads to get there, but they had come to my rescue when I needed an iPhone charging cable, a splitter for my car's cigarette lighter, a can opener and some sheets for my air mattress.  Surely they would not fail me now.  
Indeed, they had my air horn, plus aluminum tent stakes, a decal for my guitar case and a long, flexible lighter – the kind you can use to get your campfire going without incinerating your fingers.  Score!  As a bonus, there was a Starbucks nearby, so I got a big iced coffee and left Grand Island a happy man. 
I was heading for Uncle Buck's Lodge , a ten thousand acre working cattle ranch, family owned and operated since 1881.  They started developing the lodge in 1994, Walt later told me, as a way of diversifying operations.  
There are eight rooms and a bunkhouse, a dining room, a bar and a great room with a fireplace and two-story windows overlooking the river.  I was only going to be there for a day, but you can stay longer and get involved with the operations of the ranch: ride with the cowboys, be part of the cattle roundups, roping, branding and calving.  They do eco tours, group meetings, hunting trips, etc. 
So there I was on Route 2 going northwest to Brewster and what parallels the road?  Railroad tracks!  I know about these things, so I keep an eye on the far distance, looking for the bright triple headlight of an oncoming train … and there it was, rolling steadily towards me.  I've already confessed to being a railroad geek, so it won't surprise you – and I'm not even embarrassed at this point – that I pulled over to grab a video.  
Be still my heart – a double locomotive pulling 100 cars of … coal?  Why yes, coal, enough to warm even the cockles of Donald's twisted little heart.  Now I felt sort of ambivalent, my ecological commitments wrestling with the tug of railroadiana.  Nonetheless, I can't deny that it was exciting.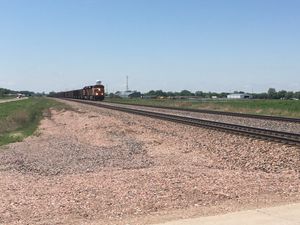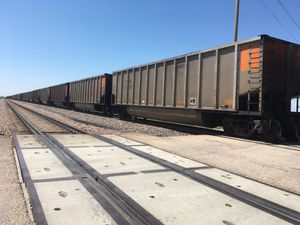 I drove onward across the smooth horizontal plane of farmland and was happily gliding along when I noticed to my right … a small hill!  It was entirely out of character.  The road sloped up it and as I crested that unfamiliar smidgeon of elevation, what I saw before me were rolling hills, smooth and sinuous, soft and inviting, stretching off into the distance, dotted – as promised – with black cows.  
Wow!  It was awesome.  I had reached the Sandhills.