Yesterday was a long day.  I didn't sleep well, but I roused myself at 7:30, aiming for the full breakfast being offered at Hermann Crown.  I roused myself again at 8:00 and once more at 8:30.  I had slept a lot, but still didn't feel  that well-rested.  Too much railroad, I think.  No matter – there was coffee and it did its magic.  
Having arrived somewhat late the day before, I hadn't really had time to explore the town except to go to Sharps Tavern for a double cheeseburger and lemonade and Sugar Mama's to restock my jelly bean supply.  Hilary had sent me off with a shopping bag of Kind power bars, which, in truth, I had thought to be a vast excess, but they've turned out to be a useful and reliable asset when cheeseburgers, lemonade and jelly beans are not enough. 
Based on the region's resemblance to the Rhine Valley, the city was founded in the 1830s by the Deutsche Ansiedlungs-Gesellschaft zu Pennsylvania – say that five times fast! – (German Settlement Society of Philadelphia) with the goal of perpetuating traditional German culture.  I thought this was  interesting: according to hermannmissouri.com, 
... the town is named after Hermann der Cherusker, a Germanic leader who defeated the Romans in the Battle of the Teutoburg Forest in the year 9. In 2009, the City of Hermann celebrated the 2000th anniversary of the battle, in which the Germanic warrior Hermann defeated three Roman legions and changed the course of history.  
Very little in America references the year 9.  I also found this amusing and proof that some things about selling real estate haven't changed over the years.  Visithermann.com notes 
In 1837 school teacher George Bayer, who was appointed to serve as the society's agent, traveled to Missouri and purchased 11,000 acres of the steepest, most rugged terrain to be found anywhere on the Missouri River. It was a beautiful, if highly impractical, site for a town. 
Meanwhile, back in Philadelphia city planners were mapping out a grand new city, undeterred by their total ignorance of the actual terrain. On paper, Hermann was flat, with spacious market squares and sweeping boulevards. Thinking big, they made their city's main street 10 feet wider than Philadelphia's. 
When the first 17 settlers stepped off the last steamboat of the season into what one writer described as "a howling wilderness," their starry-eyed idealism died on the spot. Some were furious to discover that the Hermann lots they had purchased back in Philadelphia were what today's residents jokingly refer to as "vertical acreage." 
The town of about 2500 people is known for its many small wineries, some of which date back to the original settlement, and the Katy trail, a 225-mile-long bike trail that passes by on the other side of the Missouri River.  Walking around the town confirmed its German heritage.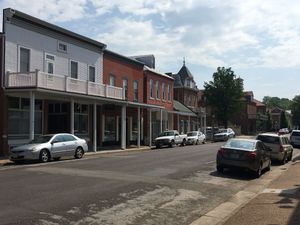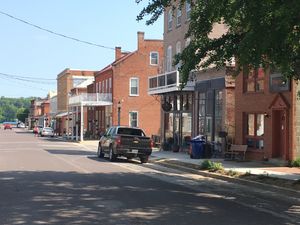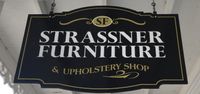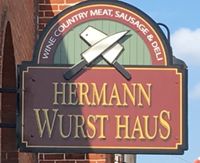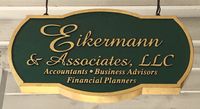 I'm not much of a collector of tchotchkes – Trish was more of a memorabilia accumulator.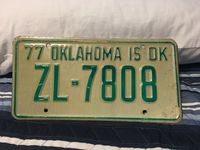 I'm a skeptical New Yorker and view tourist-related stuff as overpriced paraphernalia designed to extract money from gullible visitors.  I refer to the process as Gullible's Travels.  Thus it was that when we visited Aruba and Trish insisted on purchasing an old license plate with the tag line "Aruba – One Happy Island" I rolled my eyes, but based on a deep understanding of the futility of resistance, forked over $15.  It has sat at the base of one of our hibiscus plants since then and despite myself I've become rather fond of it.  
With that in mind, I wrestled with my inner grouch and picked up a 1977 Oklahoma license plate, rationalizing that like Aruba's, the tag line "Oklahoma – is OK" was sort of positive and that in the future I would only pick up upbeat license plates.  For example, I'll avoid Delaware's, which I think says "At least it's not New Jersey."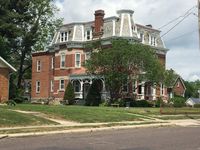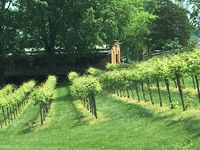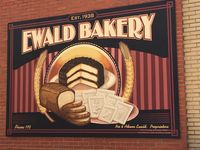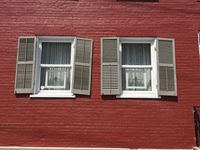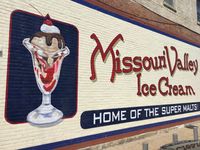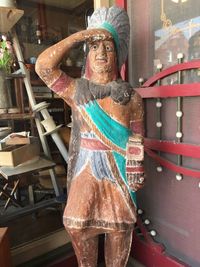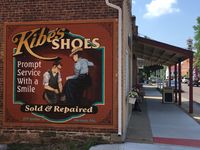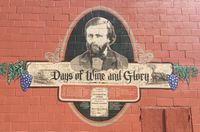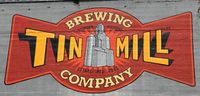 Even though Hermann isn't large, I walked all around it and didn't get on my way until after noon.  I decided to avoid Interstate 70; instead, I stuck to Missouri 94, which meandered through the wide, flat countryside adjacent to the river.  In New England, this would have been much slower, but here in the Midwest, where there is virtually no traffic and one can drive 60 mph, travel time is the same (according to Google Maps.)  
This got me to Jefferson City, the state capitol where I sought out Central Dairy, recommended by Road Trip USA.  Their tag line is: "As Fresh As A Missouri Morning."  Buoyed by a tasty double scoop waffle cone of Jamocha Almond Fudge and Cinnamon ($3 – Toto, I don't think we're in Boston any more) plus a bucket of coffee from a nearby coffee shop, I set out for Lawrence.  I was dismayed to find that it was still 3½ hours away.     
It felt longer than that when, stiff and a bit groggy, I arrived at 640 Indiana Street and lumbered up the walk.  "You must be Lisa," I said to the woman who answered the door bell.  "I'm Gary … for the Airbnb."  "Oh, nice to meet you," she replied, "but we've got you down as arriving tomorrow."  Thud.  
Long story short I had inserted an extra line into my Excel-spreadsheet-based itinerary and had, indeed, booked for the next day.  Fortunately, the room was available and ready, so it all worked out.  No harm, no foul.  Still, it was disconcerting and the first thing I did was plug in my computer and check out all the subsequent dates, reservations, campsites and destinations.  Turns out this was the only error.  Whew!  
I was pretty bushed, but I resisted the inclination to just go to sleep (at 7:30!), went for some supper downtown, forced myself to walk around a bit, then came back and was down for the count by 9:30, a personal record.