I just left Port Jervis and crossed the Delaware River.  It puts me in mind of George Washington, but I don't think anyone's going to create a famous painting of Goldsmith Crossing the Delaware.  It's 7:45 in the morning and I'm on the road again, early!  That's an unusual thing for me, who was known to the partners in my medical group as "The Late Dr. Goldsmith."  By having left a little bit early, I think I'm going to arrive in time for the special 2-hour "behind the scenes tour. 
Now I'm in Pennsylvania, heading again for interstate 84, which will start me on my way to Nazareth.  No, I'm crossing the Delaware, not the Mediterranean, though in a way it is a religious experience.  I'm on my way to the Martin guitar factory.  My first "real" guitar, following the $20 Silvertone, was a Martin 000-28G, a nylon string instrument which I still have and sometimes use for folk and classical music.  
The tour was terrific – got to see everything from raw wood arriving on pallets, walk-in kilns for drying it to the proper moisture content, sanding belts five feet wide, 16-armed clamping jigs, industrial robots for shaping guitar necks, and other cool stuff.  Well, cool if you're a guitarist or a woodworker.  Guitar manufacture is a big business, a mix of automation and individuals.  For example, the kerfed ribbon of wood which attaches the face to the body is put in place by hand and held there with a series of clothes pins! 
I stopped by the factory store on my way out, but didn't buy a guitar – I've got no room for one in my car anyway.  However, I did purchase another sticker for my guitar case.  On my way out of town, I grabbed lunch at Pott's, celebrating, as their sign says, 40 years!  At this tiny place you have your choice of chips, soda, ice cream bars and hot dogs.  That's it.  Hot dogs.  A guy grilling 100 hot dogs, which you can top with ketchup, mustard, onions and other condiments.  I got one of those and it was pretty good so I also got the house special: bacon and cheese.  It was good, too, though we're talking Cheese Whiz, not camembert, provolone, gouda or one of those fancy pants foodie cheeses.  Pott's is located on a residential street, so I guess one could call this local home cooking!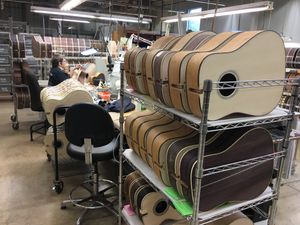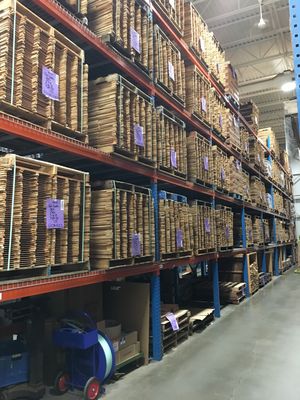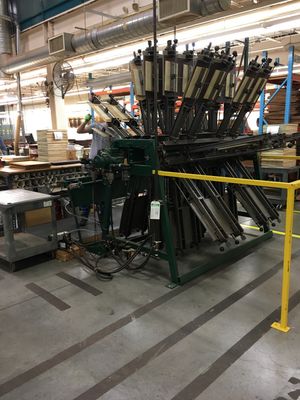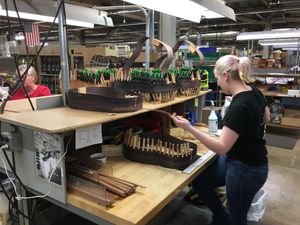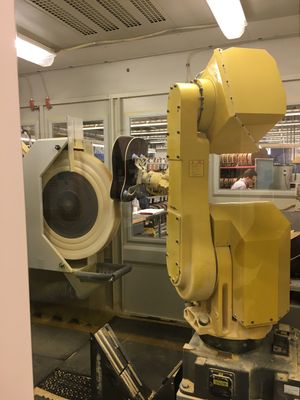 Northern Pennsylvania seemed to have a profusion of churches of unusual denominations and sects I had never heard of.  The billboards, other than exhortations to be saved, seemed to predominantly reflect health care – competing hospital systems, specialty doctors and such.  There were also lots of PSA's – public service announcements – relating to drug use, recycling, encouraging civility, watching your blood pressure and especially to not texting while driving.  As I move into more rural areas there are fewer billboards. 
Lots of big trucks on the road – this presages an employment problem when autonomous vehicles take over.  I'm struck by the number of towns named, presumably, after and by their founders: Trexlertown, Annville, Bullville, Rehersburg, Klumburg, Fredricksburg, Gettysburg.  
I stayed in an Airbnb in Gettysburg – a functional, but undistinguished apartment in the historic town center.  Arriving late in the afternoon, I didn't have much time to explore the Gettysburg National Park, but I got to see the introductory film, narrated by Morgan Freeman, one of my voiceover idols, and to experience the cyclorama. 
Cycloramas were the IMAX of the 1800's – a panoramic image which gave the viewer standing in the middle a 360-degree view of an event or location and a feeling of actually being there.  Apparently the most popular travelled from city to city to provide local entertainment, but the most spectacular ones were inside cylindrical buildings, with dioramas in the foreground to provide realism, often including music and a narrator.  Most depicted religious epics, scenes of great works of literature and famous battles.  
Those of you who live in Boston may be familiar with the Cyclorama at the Boston Center for the Arts.  It was built in 1884 with a stunning copper dome and skylight and housed a depiction of the Battle of Gettysburg.  The French artist, Paul Phillippoteaux spent weeks on the battlefield, observing details of the terrain and speaking with veterans of the battle.  The painting he created over the next year and a half included incredible detail of soldiers, muskets, cannons, trees, crops, fences and stone walls.  
The Boston cyclorama was built to house the second version of the painting, which eventually was purchased by the National Park Service and moved to the Gettysburg visitor center in the late 1940's.  A new visitors center was constructed in 2008 and included a cyclorama to house the restored painting.  I had expected an interesting historical experience, but was surprised to find it highly emotional as I envisioned myself among the wounded and dying soldiers on the battlefield and thinking of the those who survived and their families.  It was unanticipated and deeply moving.