Everybody's got a "system" for dealing with "stuff."  You've got to have one, even if it's just "I'm only going to take care of serious issues" – like  bills, cleanliness, social appropriateness – everything else is on a need-to-address basis.  That leaves a lot of flexibility for the rest of the "stuff." 
But most people have something a little more organized – a calendar, a to do list, Google Drive.  I use those, but the physical pedestal upon which mine rests is a sizeable reservoir of five-by-eight inch narrow-lined notepads.  Yes, I know it's low-tech.  But I keep them everywhere so they're available for jutting down ideas, tasks, songs, quotes, suggestions people offer for destinations and contacts. 
 It's true that the process undermines my progress on beating down the to do list, but it does help move things along.  I make sure they're easily accessible in all sorts of places – at the desk, in the kitchen, next to my bed.  I harvest them to my desk every week or two and organize whatever I sow from them.  Go ahead, laugh if you want.  It works for me and I'm sticking to it! 
So, I'm getting ready to go and I made a countdown out of Post-It notes and put it on the fridge.  The top one said "32" – and yesterday I uncovered the one that says "31."  That meant thirty one days till departure.  Well, maybe 32 – Fretbox Trio has the potential of a gig at Slumbrew, the open air Somerville Brewing beer garden at Assembly Row.  We've played there several times and they've asked us to return … and play twice this spring and summer.  The first date might be April 27th, in which case I'll leave on the 28th, and that gives me 32 days.  Otherwise both gigs will be in July. 
I realized, however, that if we play on the 27th I would have to load the Subaru with the  sound equipment and then unload it afterwards, followed by loading all the tour  gear and transforming the car into a travel vehicle.  Fortunately, Joe has kindly offered his Honda Pilot to haul equipment so I can prep the Outback and keep it travel-ready.  Thanks, Joe.  One more problem solved. 
Though the Post-It countdown said "31", I felt as though I've got 62 days of work to do to get this together.  Well at least the trip tasks are getting accomplished in a timely fashion, thanks to the yellow notepads. 
It occurred to me that I would be leaving them behind – a stack of little yellow notepads in the Grand Tetons is an oxymoron of some sort.  What else am I leaving?  The house, the garden and the Boston Globe, which I have been reading daily for decades.  I suppose I could access it via the Internet, which will come with me, but I suspect that won't happen.  It takes a lot of time to keep up with the news and then to let off steam out afterwards. 
However, I'm taking a laptop computer, WiFi hotspot, independent physical and cloud-based hard drive backups and other technological wizardry.  It's odd: I'm going to be camping in the middle of a Black Hills forest and I'll be using a batch of 21st century equipment, though in reality there probably won't be any Internet service. 
Listen, don't worry, I will be looking up.  My last stop before the big slog back to Boston is in a homesteader cabin from the 1880's near The Badlands in South Dakota.  For real – I'll post a photo here.  It's on a ranch just outside of The Badlands National Park .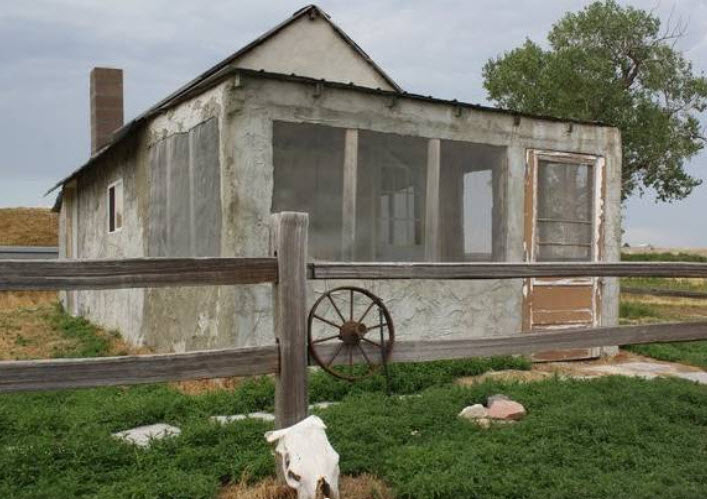 And as luck would have it, there is a Night Sky Observing session that night at the park and for sure I plan to be there.  According to their website, "Summer night sky viewing is offered at the Cedar Pass Campground Amphitheater on Friday through Monday nights. After the evening ranger program, stay to enjoy the spectacular night sky.  The ranger will point out constellations, stars, and planets." - https://www.nps.gov/badl/planyourvisit/night-sky-program.htm 
They provide telescopes and I'll have my binocs and my camera for that.  Ooh: note to self: bring tripod.  Wait – I just checked the Take list and sure enough, it's already there.  Cross that off my to do list.  Okay so now it's only 61½ days of work, not 62. 
Also on the positive side, I think I've solved a really big problem – who's watching the house?  Plans A though F fell through, but I think I've found a housesitter.  That, too, is a topic for another day. 
Right now, the fact that that bottleneck, logjam, rock in the road has been resolved breaks through a big wall of stress and angst.  It's like one of those advertisements for vitamins or testosterone supplements where a guy runs, arms spread wide through a wall covered with the words "stress" and "angst".  It shatters, but he is uninjured!  He's free!  You can see that reflected in the joy on his face – well, actually, you see that because he's an actor and he knows how to look joyful, even though his bunions are killing him. 
So let's see – where am I?  My Take List is mostly done.  My detailed itinerary – check.   Airbnb's booked – yup.  I use what's called a mind map to keep track of things, with sub-maps of Destinations, Take, Do, and Listening on the Road.  I use free software called FreeMind, which I have found incredibly useful for dealing with really complicated projects.  Here's the current version.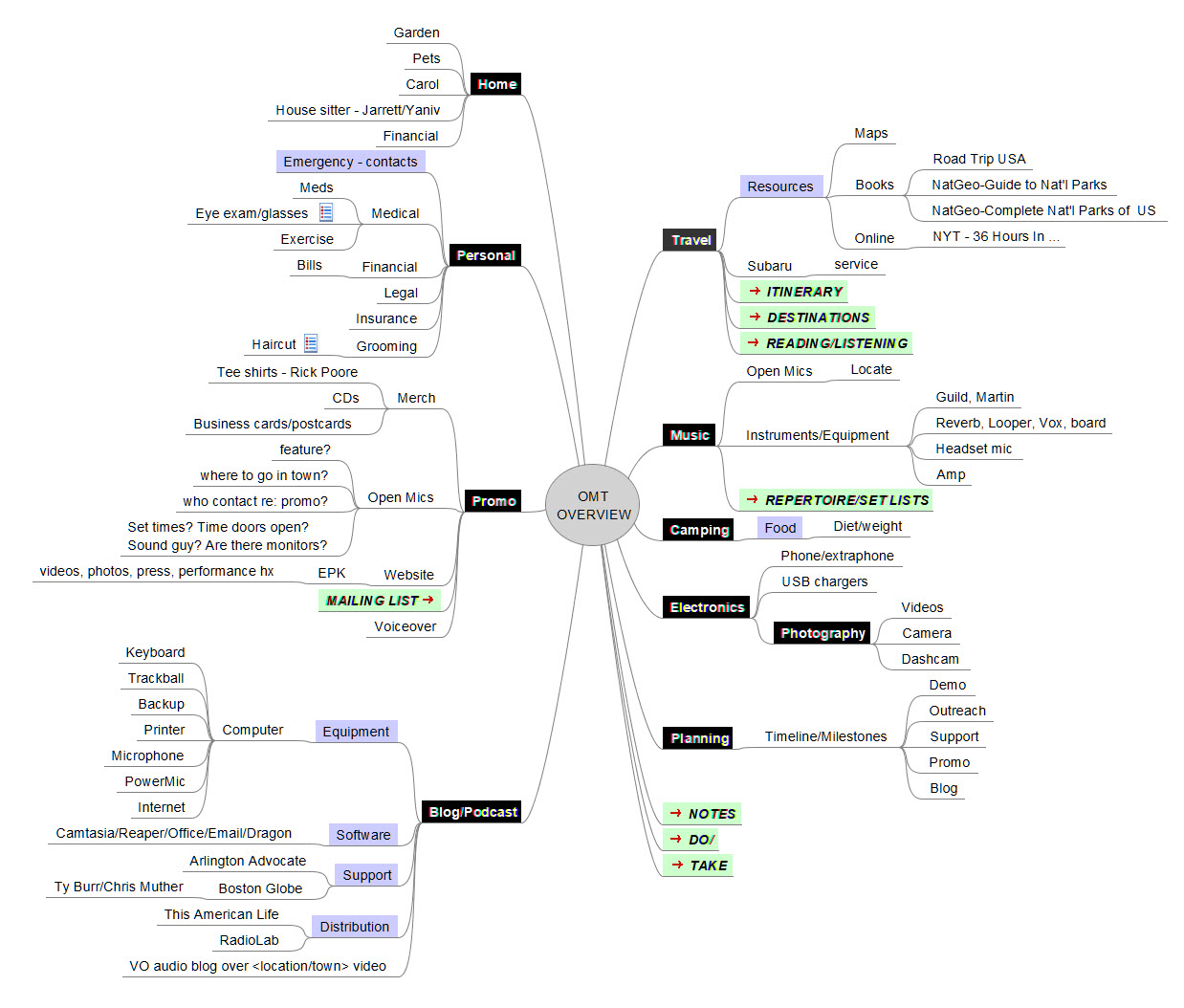 Also, my mailing list is just about ready to roll.  In fact, some of you have gotten here from it.  If not, and you'd like to be on the mailing list, click on the CONTACT link above.  The sign-up is just under the message "Your data will never be abused or monetized."  I thought I ought to add that.  I know that Google also said something like it, and they've been pretty good so far.  Facebook – not so much.  In part, as a result of their misbehavior I do believe we're coming to the end of the Wild West era of the Internet.  I suspect we're at an Internet inflection point, but you know, that's also a topic for another time.  I've got too much work to do now to think about it. 
I suppose that when you take into account the things that are essentially finished there are only 47 days of work needed to get this together.  Maybe 46, but no less than 45.  My trusty yellow notepads will be the catalyst to make this happen.  Onward!