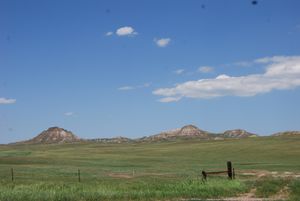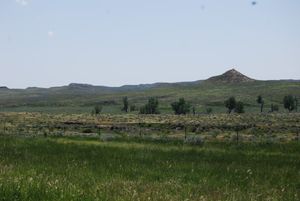 The next morning I was off to the Black Hills, again a little nervous about the first come, first serve campsites.  
I drove through Rapid City, South Dakota, Hilary's hometown (yay!) and bought some groceries and cold cuts for my ice chest.  I don't think I've described my ice chest experiment – maybe I did at the very beginning of this blog, but if so I'll repeat it here.  I've got three Coleman (or similar brand) ice chests.  They've just accumulated over the years – you know, one July 4th party after another.  The are adequate for that type of application, but barely keep things cold for more than a day. 
As part of my pre-trip research, I looked into alternatives and came upon Yeti, a fairly new brand of coolers.  They are also available in a variety of soft-sided models, but one feature which seemed relevant for this trip was bear-resistance and these guys have a simple, but clever arrangement of two matching holes on the heavy-duty molded base and lid through which you can slip a standard-issue long-shackle padlock.  Bears apparently have difficulty handling keys and this makes it secure. 
They've got extra-thick insulated walls, an interlocking lid with a rubber gasket, heavy-duty latches and a bunch of other features.  Pretty cool.  Plus, it's super-sturdy and you can sit on it – that may sound trivial, but trust me, you never have enough chairs when you're camping.  
So on the positive side, they seem to be the current cutting edge of portable cooler technologies.  The downside is that they are expensive, as in $250 for the size comparable to my assortment of Colemans.  Thinking creatively, I rummaged through my post-apocalypse collection of Styrofoam coolers, found one the right size and bought a roll of Reflectix.  That's a thin, foil-coated insulation that looks like bubble wrap and is used in attics, around heating ducts and less traditionally as a thermal barrier under a sleeping pad or wrapping around frost-sensitive plants at night.  It's a close cousin to those sunshades you see under car windshields. 
My inspiration came from an off-campus house that Bill and Sandy and I lived in at Antioch.  It had a coal-burning potbellied stove which got red hot and threw out megatherms of heat when you fired that puppy up.  Unfortunately it was fairly close to a wall, which became worryingly hot and even though we didn't have a lot of real-world experience, our limited amount of common sense indicated that this could be a real fire hazard.  
I knew that shiny surfaces reflected heat (duh), so I experimented with taping aluminum foil on the wall.  To my surprise, that completely protected the surface underneath – it remained cool and unheated even when the stove was red hot.  We had some other clever ideas, but those didn't work out as well and I'm not at liberty to divulge that embarrassing information at this time. 
So, back to my current project.  I found a cardboard box which fitted nicely and wrapped several panels of Reflectix around the Styrofoam cooler inside.  It looked clunky, but I was pretty sure it would keep things cooler longer.  As a rough-and-ready experiment I placed equal amounts of ice in my device and the two least-beat-up Colemans when I went to bed one night.  In the morning they only held cool water, but my contraption still contained a fair amount of ice.  As soon as I write it up you will be able to read details in the Journal of Irrelevant and Ridiculous Science. 
So now I had a cooler.  Besides, it just fit into my congested car, whereas the Colemans didn't.  However, there turned out to be two minor flaws in my plan.  First of all, it was a real pain in the butt to put items in or take them out – you had to work your way through several layers of cardboard and Reflectix every time.  Secondly, it leaked.  Andrew politely suggested that he didn't want to insult my ingenuity, but perhaps it wasn't the perfect solution.  I had to admit that he was right – it seemed worth trying, but failed in its real-world implementation.  
So now I needed to look for a Yeti.  We stopped somewhere in Idaho and while Andrew shopped for groceries I checked out Ace Hardware.  Lo and behold, there was exactly the model we needed … and it was $50 off!  I found Andrew and told him the good news, but with the caveat that the cooler was a pale blue – not quite a pastel, but … was it manly enough?  We decided it was and now had a cooler.  I addressed the problem later by pasting Mike's Ray Wylie Hubbard "Screw You We're From Texas" sticker on it.  That should do it. 
Guys worry about these things, or at least some guys, and perhaps mostly from my generation.  I once made the mistake of questioning whether the pinks and pallid colors of a macramé Trish's sister made for us were bold enough.  She took it back and made us a new one with a dark blue background on which there was a large brown circle in the middle.  It's called "Buffalo Chip."  I still have it. It keeps me humble.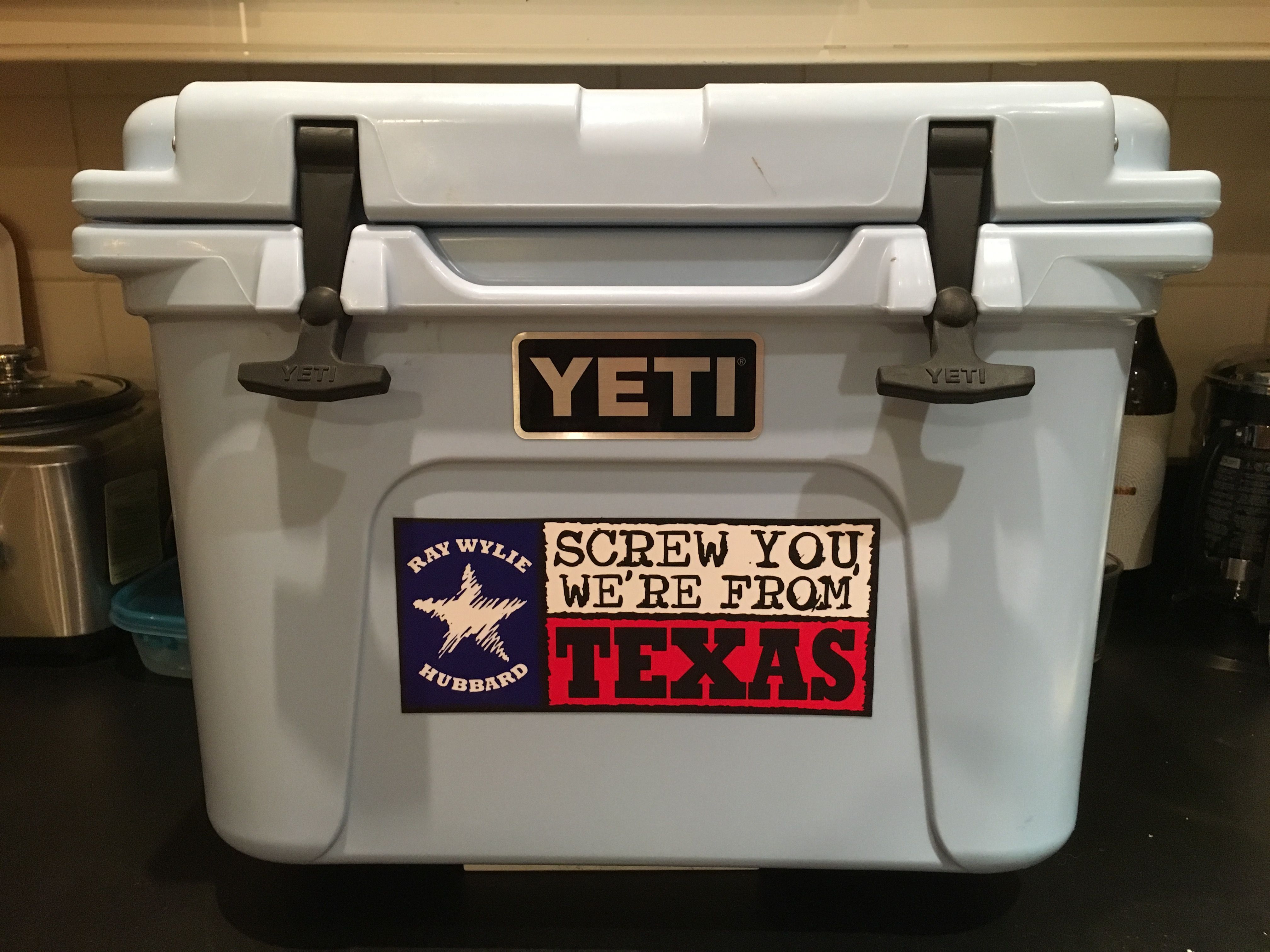 Some national parks have reservable campsites, but many – and most state parks – don't, so it's a bit of a gamble.  Still, it was fairly early in the season, so I was willing to take a risk.  After a drive through the breathtaking Spearfish Canyon I drove four miles up the gravel Route 223 and scored one of the last two sites at Timon Campground.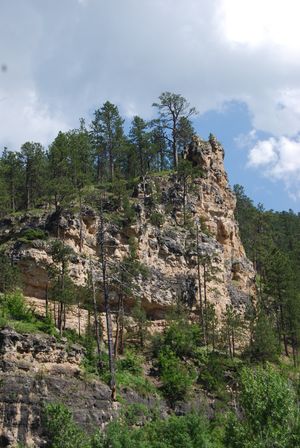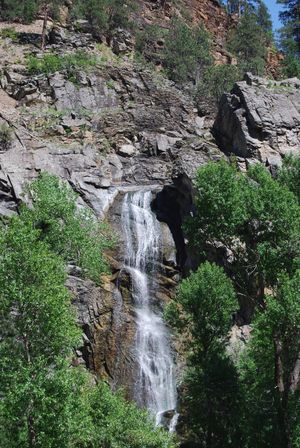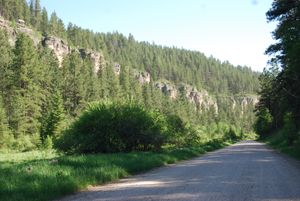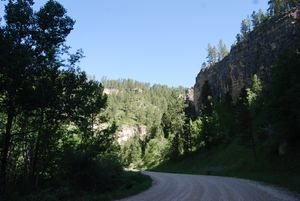 The night was clear and the area fairly open, so since I wasn't in a forest and it wasn't overcast, I was finally able to see the canopy of stars and the full extent of the Milky Way.  Nice.  I was also finally able to hang my AirChair, which I had thought would be a pleasant adjunct when I set up camp.  All I would need was a sturdy horizontal branch and sure enough, there had been plenty of them everywhere I had camped.  Unfortunately, I've been in pine forests so they were all 50 to 70 feet off the ground, which made it an impractical enterprise.  I felt very self-satisfied that I had been able to make use of it … at least once.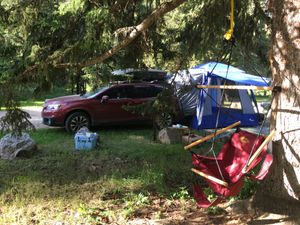 I would have camped and hiked more in the Black Hills, had I the time, but I needed to push on.  I'll have to come back.  I did make a point of stopping in Lead, SD (spelled l-e-a-d, but pronounced "leed" and so-named because it was here around 1875 that prospectors found the first lead to a vein of gold ore).  The town is on the National Register of Historic Places and has many attractive buildings, though a shortage of businesses to populate them.  Lead is the location of the Homestake mine, the largest and deepest gold mine in the western hemisphere until it closed in 2002.  Over 126 years, miners pulled out more than 41 million ounces of gold.  It also included a large open pit site, which I was eager to investigate.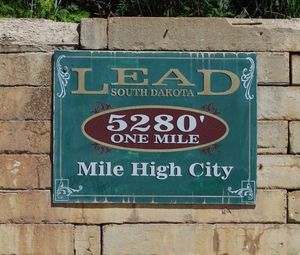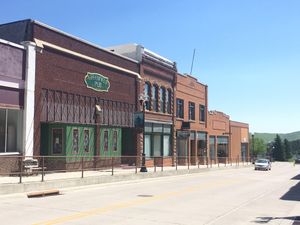 I couldn't explore the vast network (370 miles!) of underground tunnels, some as deep as a mile and a half, but there is an excellent museum there, run by the Sanford Underground Research Facility.  I knew of Sanford Lab because it was the site of a landmark neutrino detector, work which earned Ray Davis the Nobel Prize in physics in 2002.  Nearly a mile of rock provided enough protection from interference by cosmic rays to detect them.  They have established the Deep Underground Science and Engineering Laboratory and are now conducting experiments to help understand dark matter.  Yes, I confess.  I'm a science geek.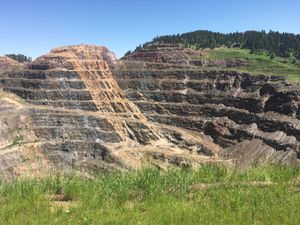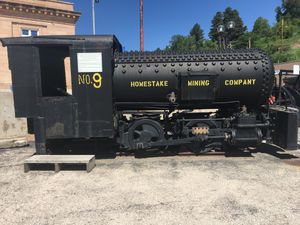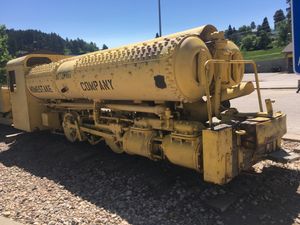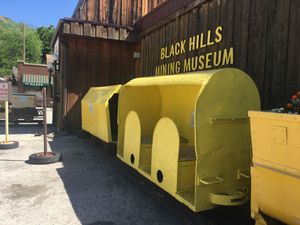 The Black Hills Mining Museum is also in Lead and though it wasn't open when I passed through, there were lots of outdoor exhibits.  I was particularly taken by this description of an underground transportation car at the Holy Terror Mine.  According to the posted explanation,  
"The Holy Terror Mine is rumored to be named after one of the original owners, who would refer to his wife as 'Ain't she a holy terror' when she would find him in one of the local watering holes.  His partner suggested that he name his new mine after her.  He chose Holy Terror, instead of Jennie."  
I like a man with a twisted sense of humor.