We finally got to Glacier, or more accurately, to Columbia Falls, a town just outside of the park.  I wasn't thrilled by the campgrounds on the west side of the park, so I booked an Airbnb in Whitefish, figuring that I'd find somewhere to play there.  When Andrew was able to join me for part of the trip, we needed to find a place with two bedrooms and the closest one I could find was here.  It was a great layover, though and it turned out that we were their very first guests through Airbnb.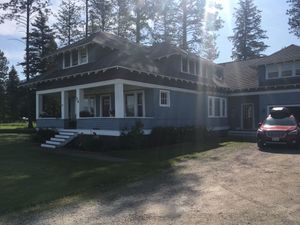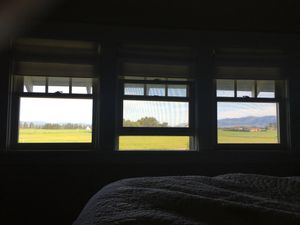 We arrived early enough to head for the park and drive up the Going-To-The-Sun Road, which goes across the center of the park via Logan Pass.  Once Spring arrives, they start plowing from both sides, often having to redo portions which get blocked again by avalanches or additional snow.  The pass is open when they reliably meet in the middle.  We had been warned that the pass might not be open and I had researched this online, finding data going back to the 40's.  It has varied from mid-May to mid-July and was not yet open when we got there.  
I slept well and woke up around 7:30.  Andrew returned in a while, having risen hours before, driven to the park and up Going-To-The-Sun  as far as you could go and hiked the five miles of the Avalanche  Creek trail and back.  We packed up the car and I drove him to nearby Kalispell, where he was staying the night in a hostel and grabbing a bargain Alaska Airlines ($150!) flight the next day to Seattle and then back to Boston.  
I first drove around Kalispell, stopping at all the thrift stores.  Not for bargains – why then?  Well, I had planned to download a bunch of interesting podcasts and TED talks for the trip, but never got to that part of the to do list before I left and forgot to do so during the few times I had fast Internet service on the road.  It was okay – I listened to music and discovered that you can get NPR almost anywhere in the country.  Still, I was facing some very long drives soon and regretted not having something to listen to which would make the time go faster. 
During the night I suddenly woke up and gave myself a dope slap as I thought of the solution: audiobooks on CDs.  My Outback has a CD player – possibly the last model that ever will – and where would I find audiobooks?  Thrift stores, of course.  I went to Kalispell Community Thrift, Second Helpings and several Flathead Industries Thrift Stores with no luck.  Then I remembered that on the way into town I passed a big Goodwill store and would go by it again as I traveled up Route 2.  Sure enough, they came through with a Clive Cussler mystery, a series of BBC Sherlock Holmes shows, Plan of Attack (by Bob Woodward) and some Dr. Who stories.  Problem solved. 
I decided to save the audiobooks for the long drive across Montana and listened instead to 98.5 – "Flathead's Best Rock" – whose Dead Guy Of The Day (I kid you not) was Clarence Clemons, the legendary saxophonist of the E Street Band. 
Logan Pass still being closed, I opted for Route 2, which circumnavigated the park, but would take me to the same place: St. Mary, on the east side.  It was 100 miles while Going-To-The-Sun Road was only 50, but drive time was the same.  I was actually going north of there – to the Many Glacier campground, which was universally agreed upon as being the most desirable place to settle down.  I knew I was taking a risk since campsites there were first come, first serve.  That didn't prevent me from indulging in the requisite pull-overs and side trips – for rushing rivers, horses by the road, and the world's largest purple spoon – I arrived.  Fortunately, it worked out and I got one of the last three vacant spots. 
I set up camp, played guitar while supper cooked and hit the sack early, tired, but happy.