We left the ski chalet in Irwin reluctantly – it was a truly special place, one of the most remarkable either of us has ever stayed in.  Our next stop was Arco, Idaho, which I had chosen because I had expected to be camping for the previous five days and it was just too far to get to Twin Creek Campground in a single drive.  However, staying on Shady Lane cut two hours off the drive, so we cancelled the second night, figuring to push onward instead.  
We stopped at Idaho Falls to visit the Museum of Idaho, which had an interesting exhibit of Steampunk art as well as excellent presentations of Native American and local history.  We explored the historic downtown district and ate our sandwiches at a beautiful friendship garden next to the river.   After an admittedly unnecessary, but really tasty stop at an ice cream shop we were back on the road.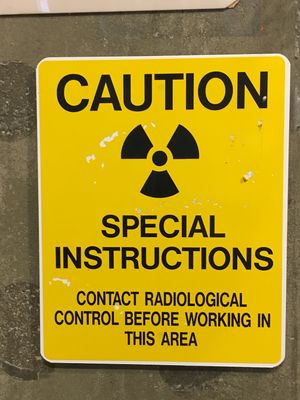 The drive across the Idaho plains was long and unremarkable until we reached a group of three buttes (I believe the song goes  ), followed soon after by the ERB-1 Atomic Museum not far from Arco (population 972).  The facility is a National Historic Landmark and is where usable electricity was first generated from nuclear energy in 1951.  At the time nuclear power was an unknown and completely experimental technology.  ERB-1 produced electricity and was an important research site until 1964.  This corner of Idaho is remote and sparsely populated – just the place for new and untested technologies. 
Although there are legitimate concerns about nuclear power, this particular design had the potential to become a model for a safer nuclear power.  It was not to be and the industry went in a different direction.  France currently derives about 75% of its electricity from nuclear power, using smaller, safer design, though there is movement today towards renewable sources. 
Arco has some striking nearby topography plus a mountainside decorated with decades worth of the last two digits of the local high school classes.  The Arco Inn Motel was our overnight stop, complimented by an excellent and inexpensive Mexican dinner at El Mirador.  
We were up early and on the road to the nearby Craters of the Moon National Monument and Preserve,  three major lava fields totaling over 1000 square miles.  Rather than a volcano, the source of this lava was a series of deep cracks in the earth, resulting in almost every form of lava, lava tubes and craters.  The most recent eruption was only 2,000 years ago.  We drove through the park, hiked some of the trails and explored craters and cinder cones.  It was an unexpected and awesome place. 
With yet another night of crummy weather ahead of us, we bailed on camping and headed for Hailey, a small, but vibrant town in the midst of the majestic Central Idaho Rockies, adjacent to the Sawtooth and Challis National Forest.  We both agreed that we could live there.  It's got theater, arts and interesting shops, without feeling particularly touristy, and an interesting bit of local history.  Apparently Bruce Willis discovered the town, bought and restored some buildings, but eventually moved on, leaving some ambivalent opinions and hard feelings behind.  
Andrew rented a bike and headed off down the bike trail while I explored the town.  Turns out that Sandra Acker bought one of those Bruce buildings and opened Flight Archery.  Now, I've got a nice recurved bow at home and absolutely no knowledge of how to use it – this seemed like an ideal spot to learn … and it was.  She told me that there's a shortage of music venues in town, though Bruce had sold the building next to hers and it's being set up as a restaurant on the ground floor and a club upstairs.  A little online research cast some uncertainty about that, but I'll have to come back to confirm and play here. 
Our abode for the night was a former schoolhouse.  Good burgers in town for dinner and we crashed early, aiming for a timely start. 
[NOTE: Pictures are in the PHOTO tab]