Having grown up in the African bush, Andrew still sort of stays on bush time: up very early, take a nap in the afternoon.  Since we were moving south to Grand Teton the next day he rose at 5:00 a.m. to see the sights, thus avoiding the masses of tourists to come later in the day.  That seemed like a good idea.  He also went for a run.  Having grown up in New York City, that seemed like a less good idea.  I slept in.  
When he returned, we broke down camp, loaded up the car and headed down the Yellowstone loop road.  We hadn't gotten far when we found ourselves in standstill traffic on the two-lane road.  Nothing seemed to be coming through in the other direction either.  This will pass, we thought, but it became clear that it was not the case and for all we knew things were not going to change all the way to the Old Faithful service area 13 miles away and perhaps beyond.  
We ingeniously decided to backtrack past Madison Campground towards Mammoth Hot Springs and go around the other side of the loop.  Clever us.  It was longer, but obviously traffic would be better.  Not so.  We were halted and not moving.  Okay, time to move on to Plan C: leave the park to the west and drive south through Idaho and get to Teton the back way.  We had already learned that my original plan of camping at Lizard Creek Campground wasn't going to work – it was still closed.  However, Colter Bay was open and even if there weren't any sites available, I had been tipped off by two different rangers about Gros Ventre Campground (pronounced gro-vaunt), which was, they said,    a great place to stay, had 300 sites and was massively underutilized. 
As we drove through the Caribou-Targhee National Forest, the flaw in our plans became clearer, unlike the weather, which evolved into heavy rain and thunderstorms destined to continue throughout the rest of the day and the night and the next day.  It's entirely possible to camp in the rain – people do it all the time in Europe – but as we made our way through repeated downpours it seemed like a remarkably unattractive alternative.  
I drove while Andrew searched for accommodations.  Unfortunately, we were heading towards Jackson Hole, where big money is only small change.  There were plenty of cottages available for $500 or $1000 a night, but a serious shortage of places within our budget.  Finally, though, he located Valley Village for $120 a night.  It sounded … interesting … but we were getting pretty anxious.  We booked. 
It turned out to be a small property with a couple of existing apartments plus a "tiny house" and four places under construction for glamping (Google it if you're not familiar with the term.)  The owner was enthusiastic and helpful and we could have tolerated the décor (it was … interesting), but we were overwhelmed by the pervasive eau-de-car-air-freshener scent.  It was like being in a world of Yankee Candle rejects.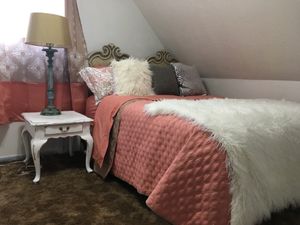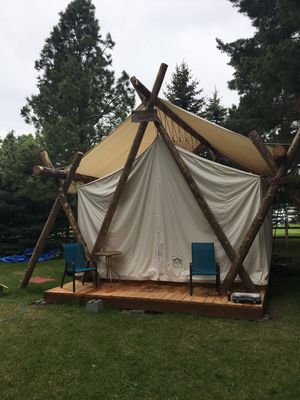 Once again we scoured the Internet without much success until Andrew said, "This sounds like it might be okay."  It didn't show up on my searches and the listing had a troubling note that "I meet people at the entry to Shady Lane to take people to the cabin," but we were driven by desperation and getting light-headed from the intense … bouquet.  We decided to go ahead, even if we forfeited our payment for the place we weren't going to stay in, but the people were very nice and wanted us to be happy and satisfied, so that worked out. 
We drove another seven miles down Route 26, passing a substantial dam with a large lake behind it and pulled off onto Shady Lane.  There was one bar of phone service and after three calls we reached Vinnie, who said to drive up the road till we reached the place where his Outback was parked.  We did that, noticing how steep and winding the gravel road was.  When we reached him he asked, "We were just getting together with some friends – want to join us?"  Though we were pretty bushed from the long drive, we accepted, not knowing quite what to expect – a frat beer blast?  a hippie commune?  a smoke-filled opium den?  
All wrong – it turned out to be Buz and Kelley, two of the loveliest people you might wish to meet.  He's a judge and she's an assistant professor at the University of Idaho and their place was perched high on the hillside overlooking the lake.  They were about to eat and invited us to join them, so instead of franks and beans we had craft beer and broiled salmon – delicious!  Vinnie's girlfriend, Yie, completed the group.   
After a walk up the hillside and lots of interesting conversation, Vinnie led us to our place – up and up the gravel road to what must qualify as the greatest upgrade in the history of Airbnb.  The alpine A-frame ski chalet was cozy and comfortable and the view was just jaw-dropping … and remained so for the two days we stayed.  OMG!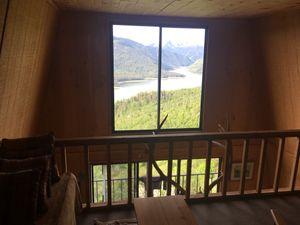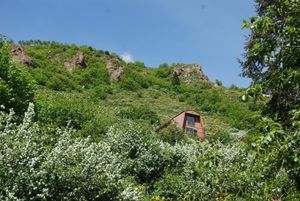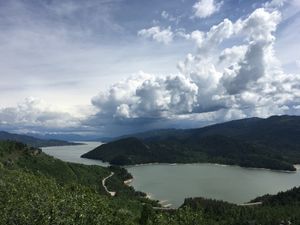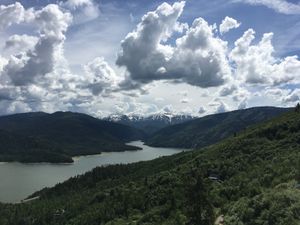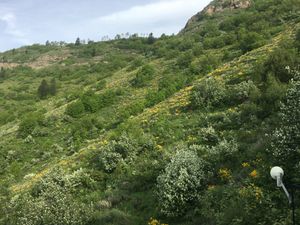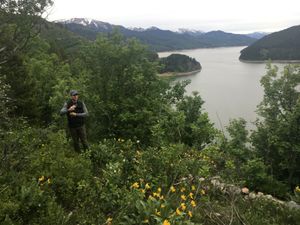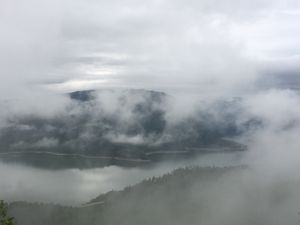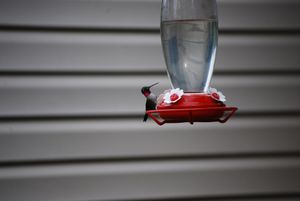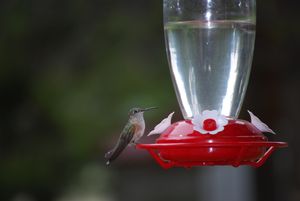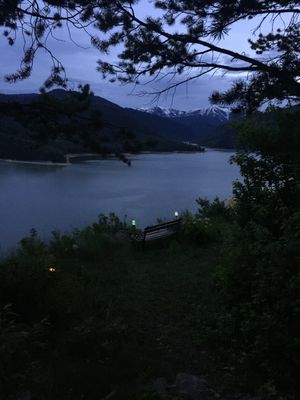 We considered taking a day trip around the mountains to the Teton park itself, but it was so nice to stay and sit on the deck that we limited our activities to a Monday expedition to the Grand Targhee Resort, a ski center on the west side of the Grand Tetons.  It apparently is known for deep powder, the kind of snow that caused my right knee to insist that I quit skiing.  But it was Memorial Day and the resort itself proved to be closed up tight. 
The road there passed through Victor and Driggs in Idaho and Alta, just over the line in Wyoming, creeping up the mountain, hairpin turn by hairpin turn.  We stopped at the Teton Canyon Overview Observation Site, which gave us a full view of all three Grand Tetons as well as the valley below, stretching off to another, far mountain range.  We decided to hike up one of the ski slopes and I got to try out my nice hi-tech hiking poles.  It took a bit of trial and error to get the right rhythm, but I found them helpful both for balance and to shift some of the work to my upper body.  They were especially good for descending, which is hard on your calves.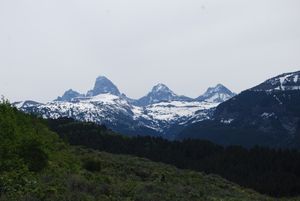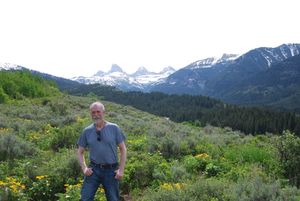 Halfway up the mountain I saw the perfect rock for sitting and admiring the vista.  I decided that it was a good stopping point for me, trying to let wisdom outweigh bravado.  I checked my pulse, which was 110.  I couldn't remember the calculation for the heart rate you're supposed to aim for (age minus 100 divided by shoe size or something like that), but we were close to 10,000 feet and that seemed about right.  Andrew, on the other hand, checked his: 58.  Sheesh!  I ate lunch while he went up the rest of the mountain into the snow field above.  
We returned to our aerie and sat on the deck, watching the weather move across the lake, still stunned by our good fortune.