I had to park in Wildcat Hills with the tail of the car higher than the hood, even though I had set up my car bed to work in the other direction.  It turned out to function fine both ways, although I had to experiment a bit to figure out how to get in feet-first rather than headfirst. 
I had checked the weather as I approached Scott's Bluff: sunny, zero chance of rain.  I confirmed that later: sunny, zero chance of rain.  Once I got settled I looked at the evening weather for the nearest town, : clear, zero chance of rain.  While I was setting up, however, I did notice that the southwestern sky seemed darker and had the look of a potential storm.  I decided that although it reduced airflow in the tent a bit, it would be wise to set up the fly, an extra layer of tarp that covers the tent.  
By the time I finished setting up, having supper, and reading a bit, it was past 8:30, but that was mountain time, and I figured that my internal clock still registered 9:30, so I should crawl into bed and go to sleep.  That southwestern area had begun producing thunder and lightning and my thoughts turned to the car windows.  I had opened them widely since I had bug screens over them, but I thought about closing them a bit since I was not looking forward to the idea of travelling in a soggy vehicle the next day.  Nah … if there was a storm, I'd hear it.  But I checked the local nighttime weather anyway just to be sure: clear, no chance of rain.  I clambered myself into my backwards bed and drifted off into a peaceful sleep.  
In the midst of a particularly serene dream I was awakened by an blinding flash of lightning all around me and followed by a stupendous, unending  roar of thunder which started at loud and became louder still, shaking the car.  Yes, indeed, I should get those windows closed.  Electric windows – no cranks – got to start the car to do this. 
I awkwardly maneuvered my way backwards out of the car, popped on my shoes, didn't bother putting on pants, and raced up front to start the car and close the windows.  I dashed back into the tent, making a brief pit stop at a tree, and contorted myself back into my cozy little cocoon.  At just that moment a high wind blew through the campground, there was a tremendous burst of lightning and a robust clap of thunder and the skies opened up with a torrential downpour.  
I fell back asleep seeing an image of my phone's weather app: clear, no chance of rain.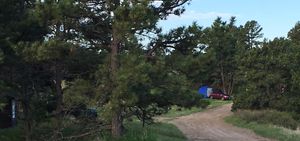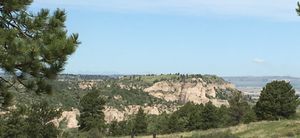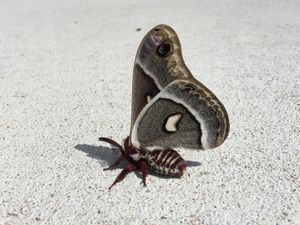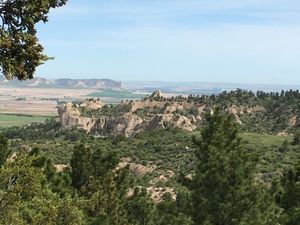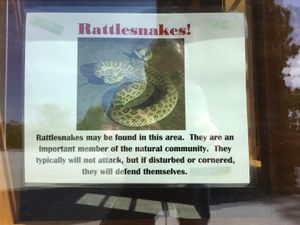 Setting up camp the night before had been challenging because of gusty winds that kept blowing the tarp and the tent around.  I remember reading that it wasn't the long trek that drove the pioneers crazy out here – it was the persistent wind.  
I got up early, had some oatmeal and coffee and went for a walk.  I had planned to get on the road early since it was a long drive from Wildcat Hills in Nebraska to Lander, Wyoming the next day – 5 ½ hours –doable, but not much fun.  But the rainfly was still wet and the sun would be out soon, so I made more coffee, moved my camp chair outside to a comfortable spot and read for a couple of hours.  
Eventually things had mostly dried, so I took my ibuprofen – the car is reasonably comfortable, but hours of driving make you stiff and achy – and prepared to leave.  I've gotten pretty fast with taking down the tent, breaking camp and packing up the car, now having had some experience and worked out a system.  
Soon after I crossed the state line I began to notice changes.  Although the land was still pretty flat, there were mesas and hillocks here and there – seemingly random – with lines of ridges in the distance in one direction or another.  years ago a vast sea ran through America from the Rockies to , resulting in the striated limestone you see everywhere.  Different eras must have fostered different organisms so layers are different colors and there are regional differences - 
  I try to imagine that I'm driving on the seabed of a large body of water with a few islands peeking above the surface.   
After a while, things got more hilly and the bluffs were more dramatic, with colorful layers interspersed between yellowish sandstone.  When I passed closer to some I could see that chunks of rock the size of my car had broken off at some point and tumbled to the base.  Most warning signs got it right – Watch for Fallen Rock – although a few advised keeping an eye out for falling rock, which sounded not only distracting, but likely to make you miss the rock which had already landed on the road.  Former copy editors are bothered by this kind of thing.  Gullies cut deeply into the matrix of the hills.  There were occasional farms, mostly raising livestock rather than crops and the structures were mostly low and often a bit ramshackle.  
As I got further west I started seeing snow fences set back from the road near the high points, testament to the blowing snow of winter.  It's definitely big sky country and if you think of the atmosphere as a very thin liquid, then what you're seeing is like a gigantic 60's light show or maybe a lava lamp.  Cool, man.  You've got to take it seriously, though – big electronic signs on the road warned of 40+ mph gusts.   
I passed through Medicine Bow National Forest, with the Snowy Range Mountains in the distance, and turned north towards Rawlins – 96 miles away – and finally towards Lander, Wyoming.  From 30 miles away I could see big, dark clouds and heavy rain right where I was heading and decided that it was not going to be a good night for camping.  A quick Internet search led me to the Holiday Lodge, an undistinguished, but serviceable place to spend the night and hope for better weather the next day.  
Next stop, Yellowstone.