I plotted out three days in Lincoln so I could hang with Kevin and Val and especially Rachel, whom I haven't had a chance to spend time with in the last three years while she's been in Japan and Bulgaria.  Now she's back in Nebraska, working a job and studying for tests.  
I drove straight through from Lawrence, which wasn't a bad drive.  Once in Lincoln, I searched out a Supercuts, since I was beginning to get that Grizzly Adams look.  It looked okay on Dan Haggerty, less so on me.  I went armed with photos I had taken after the last haircut I liked.  "Just a trim," I said and that's all that happened.  I get real nervous about haircuts – I don't know – maybe some childhood trauma.  You can take more off, but you can't put it back on if they create the Marine recruit look, but I suppose I shouldn't care – it will grow back … eventually. 
It was great spending time with Kevin and Val – fun, relaxing, lots of laughter, and an opportunity to catch up on things.  I officiated at their wedding and they're still married – must mean I did a good job.  Getting married?  Call the Reverend Doctor Dr. Goldsmith.  
Saturday I slept in and spent some time working on the blog, organizing photos, and taking full advantage of Internet access, something I haven't had consistently on this trip.  That evening I played at a local bike shop/coffee house  – an interesting, but apparently successful combo.  Got to try out my new amp – it's small, but handled guitar and vocals just fine – and to chat a bit with Beth, whom I haven't seen in years.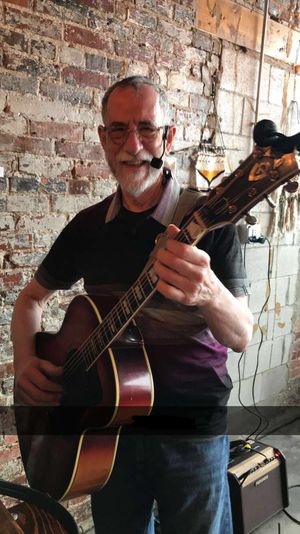 Two bonuses at K&V's – there's always coffee and the food is great.  Kev has become a really good chef and he got the smoker started early Sunday morning; we had North Carolina pulled pork and beans with pineapple cooked in brown sugar and butter, topped off by blueberry pie with vanilla gelato.  Yum.  There's a screened breezeway which is the perfect place to sit and sip the beverage of your choice and solve the world's problems.  We got most of them worked out; just a few left that the world will have to solve on its own.  Another bonus: I got to do laundry, so that odd noxious smell they were worried about in Nebraska seems to have dissipated.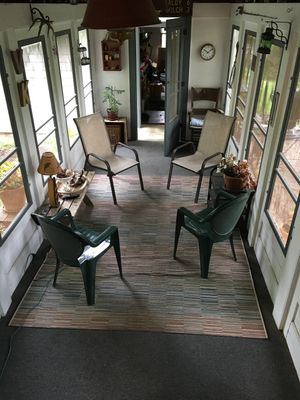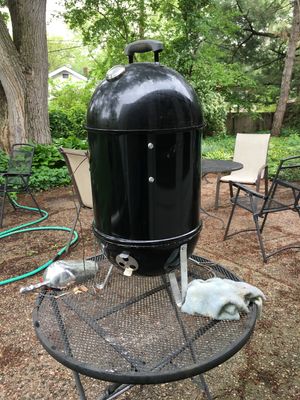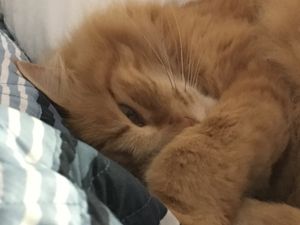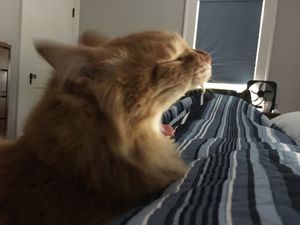 Chester, a big orange fluffball who adds up t o two or three cat's worth of my own feline, Buster, is a remarkably social animal and likes to hang out with folks.  I took a nap one day and he snuggled up with me.  Cozy.  Val has been doing flower arranging and has the perfect-sized workshop from which to turn out elegant and beautiful arrangements, so the house is just full of stunning little surprises.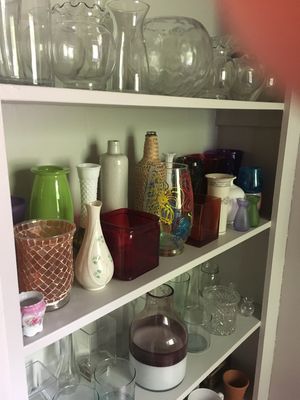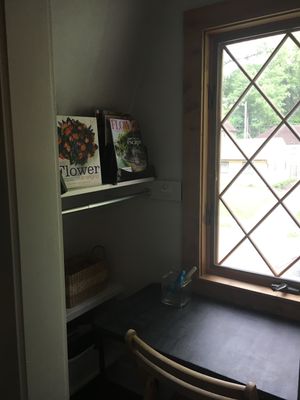 I spent a day with Rachel checking out her new apartment – bright, sunny, nicer than most places I've lived.  We had brunch at the Engine House Café – "Best Eggs Benedict in the world or possibly the universe (unless there is life on other planets and they make an Eggs Benedict.)"  Biscuits and gravy!  Then to Bodhi Imports – the hippie store – to experience incense sticks, tie-died clothing, crystals and minerals.  Just down the street is Grateful Bread and the Violin Shop, which gets my vote for the best car art.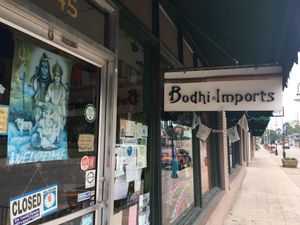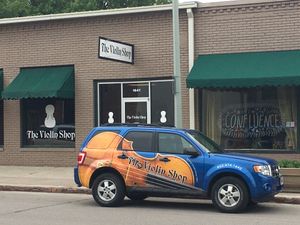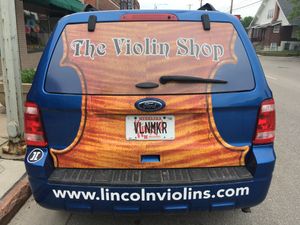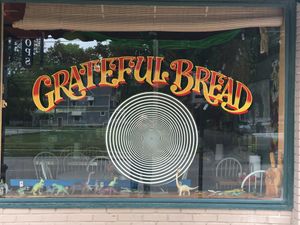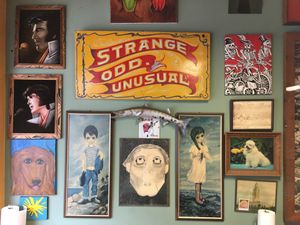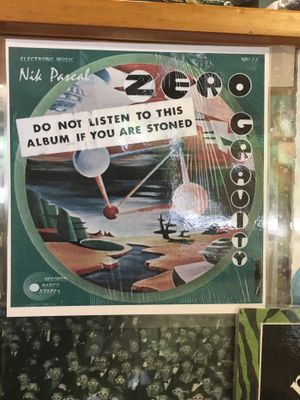 We visited the Goodwill Store that specializes in electronics – I was sure they would have a cheap wah-wah pedal and the exact guitar distortion stomp box I've been searching for.  Unfortunately, they had none of the above.  I'm certain I would have scored if I had only gone the day before, just as I'm certain I would have won big if I had stopped at one of the Indian casinos.  Also, it's pretty clear that a clerical error is why my Kentucky Powerball ticket wasn't a winner.  
We next hung out for a while at Exposed Audio, a small recording studio where Rachel has laid down some cool tracks – bombogenic beats with echos of Amy Winehouse.  A keyboard player himself, Dylan has an assortment of pianos, organs and electronic keyboards.  Back in the day you needed a quarter-million dollars worth of recording equipment to do anything serious.  I remember the effort it took to edit things with tape.  Today's electronics let you do very sophisticated work with much less than that and he's got a nice setup with a great console.  He's serious about making a go of the studio and has a background in business, which will be a valuable perspective.  Art is great, but you've got to pay the rent.  
Lincoln (population 280,000) is a right-sized city, with enough population to support a thriving music and arts community.  Like many American cities, it has experienced a revitalization and the Haymarket district, which was dark and unappealing when I first visited many years ago, is now a hot and happening place.  Dylan's studio, a couple of doors down from Method Cycle, is on 11th street, on the very edge of Haymarket, but the city has plans in the works to develop the street as a major corridor so I think things will go well for them.  No slight to Boston, but the fact that it's built on a grid makes it really easy to negotiate getting from one place to another … go to 17th, make a left on L and there you are. 
It is the capitol of Nebraska and has a remarkable state capitol building, filled with grand murals, dramatic hallways, coffered arches and a spectacular law library.  It's not that often that you find mosaics of trilobites, ichthyosaurs and brontosaurs in the state capitol.  You can look out over the whole city from the top of the tower, as well as see it from miles away.  It is referred to fondly by many locals as, ahem, "the penis of the plains."